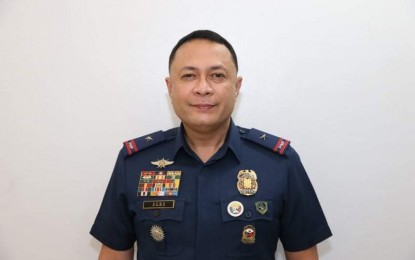 MANILA – Philippine National Police (PNP) chief Rodolfo Azurin Jr. has named Public Information Office (PIO) chief Brig. Gen. Roderick Augustus Alba as the new director of the Police Regional Office 7 (Central Visayas).
Alba replaced Brig. Gen. Roque Eduardo de Vega who reached the mandatory retirement age of 56 on Thursday.
"For more than a year, we had established a good and professional working relationship. I thank you for all your support, cooperation, and patience. I hope I have helped you in accomplishing your tasks as a journalist and member of the media," Alba said in a message posted in the Viber group of members of the PNP Press Corps and PNP-PIO officials.
Alba officially assumed command of the PRO-7 in a turnover ceremony led by Azurin at Camp Sergio Osmeña Sr., Cebu City.
"I am confident that Central Visayas is in good hands with General Alba at the helm. His competence, commitment and work ethics bespeak his leadership approach, and so, I entrust him to lead the more than 11, 000 strong personnel of Police Regional Office 7 to raise the bar of excellence in public service," Azurin said.
Alba is a member of the Philippine National Police Academy (PNPA) class of 1992.
Before being assigned as PNP-PIO chief, Alba was the deputy director for the administration of the PNP Information Technology Management Service.
He also served as the officer-in-charge of the Negros Occidental Police Provincial Office, provincial director of the Iloilo Police Provincial Office, chief of the Regional Operations and Plans Division of the Police Regional Office 6, and other commands, staff, and training assignments as a senior PNP officer.
Col. Redrico Maranan, meanwhile, was named acting chief of the PNP-PIO.
Maranan will serve the functions of being the publicist and mouthpiece of the PNP on information matters and other strategic communication concerns of the PNP.
He also holds graduate degrees in Management major in Development and Security and Business Administration at Wesleyan University.
Maranan, a member of PNPA Class of 1995, served as deputy district director for operations of the Quezon City Police District.
He briefly served as Chief of Staff of the PNP Drug Enforcement Group in 2021, and held other command positions as provincial director of the Pangasinan Police Provincial Office and chief of police of cities of Marikina, Imus and Bacoor in Cavite and company commander of the Cavite Provincial Mobile Force Company.
Maranan also received formal training on various police specializations in intelligence, drug law enforcement, incident management, aircraft operations, bomb investigation, human rights, hostage negotiation, and police tactical skills. (PNA)