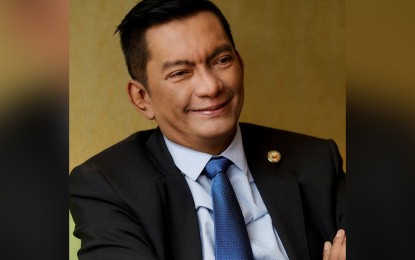 MANILA – The chairman of the House ways and means committee on Thursday said the government should focus on fertilizer subsidies to farmers to address the rising inflation and food supply issues.
Albay Rep. Joey Salceda said providing fertilizer subsidies would still be the most cost-effective way to increase food supply despite higher fertilizer costs, as he poured cold water on proposals to exempt sugar and other commodities from value-added taxes (VAT).
He noted that it will increase farm input costs by around 6 to 12 percent, but it will increase yield by 65 percent.
"I would urge PBBM to focus on this intervention. I would also urge my colleagues to help find ways to fund more farm input support for farmers, instead of tax cuts," Salceda said in a statement. "Because, even if we cut taxes, we'll still have to face structural food constraints – and worse, we won't have the money to deal with them."
He warned against unintended consequences of cuts to VAT, citing an instance wherein the British pound slid to "all time lows" against the dollar after the British government announced its largest tax cuts in 50 years.
"It's going to make things worse, not better... That's because tax cuts cast a shadow of doubt on the ability of a state to maintain its operations and honor its debts," he said.
He said while the Philippine peso is "still fundamentally strong" and "getting stronger" against other major currencies like the yen, euro, or the pound, the proposals to exempt certain commodities from VAT could weaken the peso.
"We will have to pay more pesos for our imports, and our imported inputs, like fuel, will also be more expensive in peso terms. So, we have to be careful about a VAT cut," he said.
He said while the House panel will study the proposed tax cuts, it is of the disposition that the government "needs more, not less revenues."
"We have also committed to the President that all expenditures, spending or tax, will have to be matched by corresponding new revenues. And the current proposals are not backed by new sources," he said.
Salceda said he will be engaging in a series of conversations with counterparts in agricultural agencies in Thailand, Taiwan, and other regional neighbors to see how else the country can mitigate inflation with improved food security.
"I'll be reporting to the President on these conversations soon," he said.
The Philippine Statistics Authority (PSA) reported that the faster increase in prices of commodity groups of food and non-alcoholic beverages; housing, water, electricity, gas and other fuels; and transport had the biggest contribution to the higher inflation rate last month. (PNA)