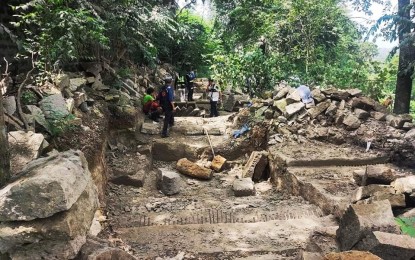 CITY OF MALOLOS, Bulacan – Nine persons were arrested for illegal quarrying of expensive volcanic rock ideal for landscaping in Marilao town, this province, on Wednesday.
In his report on Thursday, Colonel Relly B. Arnedo, officer-in-charge of the Bulacan Police Provincial Office, said the Bulacan Environment and Natural Resources Office (BENRO), together with personnel of the Marilao Police Station, 1st Provincial Mobile Force Company, and barangay officials conducted an anti-illegal quarrying operation in Sitio Batya, Barangay Lambakin in Marilao that led to the arrest of the nine suspects.
Arnedo said the arrested persons were caught in the act of excavating volcanic tuff known as "escombro" or "bulik," a high-grade kind of rock mineral commonly used for landscape gardening which costs PHP150-PHP600 per block.
Seized from the illegal miners, he said, were two pickaxes, three axes, one sledgehammer, four shovels, and 100 chisels.
Arnedo said the arrested persons, who were not identified, were using manual tools in extracting the minerals to lessen the noise during operations.
The illegal miners will be charged with mineral theft under Section 103 of Republic Act 7942 (Philippine Mining Act ), Section 71-A of the Provincial Ordinance C-005 or the Environmental Code of the Province of Bulacan, and Executive Order No. 21 Series of 2022 which mandates temporary suspension of quarrying activities.
Governor Daniel Fernando issued Executive Order No. 21 last Aug. 26, which mandated the temporary suspension of all mining permits, quarrying, dredging, desilting, and other types of mineral extractive operations within Bulacan. (PNA)