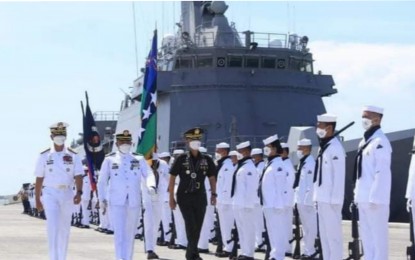 BACOLOD CITY – A "no sail zone" has been declared in the seawaters of the southernmost localities in Negros Island due to the eight-day joint naval military exercises between the Philippines, United States and Australia until Oct. 18.
Affected areas are Basay City in Negros Oriental as well as Hinoba-an town and Sipalay City in Negros Occidental.
On Thursday, the Coast Guard Station Southern Negros Occidental issued an advisory, after Mayor Daph Anthony Reliquias of Hinoba-an also informed residents about the activities on Wednesday.
"All fishermen are advised to take precautionary measures for the activities that will be held six nautical miles southwest of Sipalay," the Philippine Coast Guard said.
According to the Regional Maritime Unit-Central Visayas, live fire activities will be performed within a total of 62 square miles, and it also advised communities to obey the "no sail zone" area during the simulation exercises.
In a report, the Armed Forces of the Philippines (AFP) said chief of staff Lt. Gen. Bartolome Vicente Bacarro led the opening ceremony of the first-ever simultaneous Maritime Training Activity (MTA) "SAMA-SAMA" and "LUMBAS", at the Naval Forces Central in Lapu-Lapu City, Cebu on Tuesday.
The naval exercises were done separately before, but this year, the joint exercises are being held simultaneously with the participation of 742 personnel to include the AFP's Naval Reserve Force.
MTA "SAMA-SAMA" is between the Philippines and the United States while "LUMBAS" is between the Philippines and Australia.
"This year's joint exercise shall undoubtedly reinforce the long-standing alliance and friendship among our respective nations while opening broad avenues to complement our joint regional security efforts and advance our maritime capabilities," Bacarro said.
It mainly covers capability-enhancement events to address non-traditional concerns such as territorial defense, natural and man-made disasters, terrorism, and transnational crimes, and aims to develop warfighting interoperability of participating navies on maritime law enforcement operations, on-shore and at-sea sustainment, air operations, anti-submarine warfare, and humanitarian assistance.
Observers include representatives from the Japan Maritime Self-Defense Force, British Navy, Royal Brunei Navy, French Navy, Royal Canadian Navy, and Royal Malaysian Navy, who will also participate in disaster and humanitarian assistance activities. (PNA)