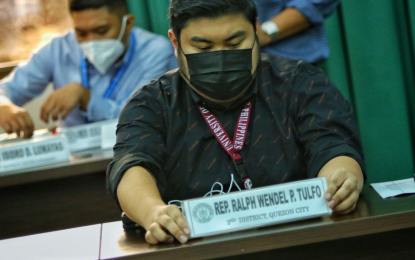 MANILA – A lawmaker on Thursday pushed for the establishment and operation of foreign universities in the Philippines should be less cumbersome and be liberalized to provide quality education in the country.
Quezon City Rep. Ralph Tulfo emphasized the need to liberalize Philippine higher education to allow "reputable, government-recognized, and properly accredited" foreign universities to open and operate campuses in the country without having to go to Congress to have a special law enacted.
"The Philippines should be a global education hub for leading higher education institutions the likes of the University of Oxford, University of Cambridge, University of Tokyo, National University of Singapore, University of Melbourne, University of Toronto, Columbia University, Harvard University, Cornell University, Yale University, Massachusetts Institute of Technology, Stanford University, and the University of California," Tulfo said.
Tulfo said for as long as the applicant foreign school complies with the constitutional requirement on schools with enrollment of aliens and for diplomatic personnel dependents, and the minimum standards of the Department of Education (DepEd), Commission on Higher Education (CHED), and Technical Education and Skills Development Authority (TESDA), foreign schools or international schools should be permitted to operate and enroll students.
"These foreign schools are not in direct competition against local private schools. They are specific to niche clients, high-income brackets, and on high admission requirements," he said.
He said he does not subscribe to the view that higher education in the Philippines should be off-limits to foreign schools, arguing that the "cynical" view of international education is "isolationist nationalism".
"The millions of Filipinos who migrated to other countries in search of international education and overseas jobs are clear proof Filipinos are not isolationist," he said.
He said the results of the 2023 Times Higher Education World Rankings remind Congress of the necessity to make Philippine universities internationally comparable in terms of quality.
"The universities are where our professionals and most civil servants come from. More Philippine universities, including state universities, should be enabled to join the ranks of the world's best," he said.
Among 1,799 universities from over 100 participating countries, Ateneo de Manila University ranked highest at 301-400; followed by the University of the Philippines, ranking 801-1000; then De La Salle University-Manila at 1201-1500 ranking; and Mapua University at 1501 plus.
Tulfo said Philippine universities must gain better access to funds aside from allocations in the national and local budgets, adding that access to and affordability of loans for operations and capital outlays of universities must be improved.
CHED chairperson J. Prospero de Vera III, meanwhile, said the ranking shows that the HEIs in the country are becoming more "globally competitive and world-class."
"The dramatic increase in the number of internationalized Philippines HEIs shows that our universities continuously benchmark themselves with the best universities in the world and are improving their programs, faculty, and facilities to produce graduates that are globally competitive and industry-matched," he said.
Also listed with "reporter status" are five state universities and colleges (SUCs) that remarkably entered the radar of the ranking body, including Cebu Technological University, Mindanao State University - Iligan Institute of Technology, Tarlac Agricultural University, University of Science and Technology of Southern Philippines, and Visayas State University.
The CHED noted that this "shows the seriousness of public universities to internationalize," not to mention it was their first time participating in the worldwide ranking.
De Vera said the result is "critical" to the call of President Ferdinand Marcos Jr. to provide employment-ready graduates, both for local and international jobs.
He stressed the importance of "complete recalibration of the internationalization strategy" under the current administration. (PNA)