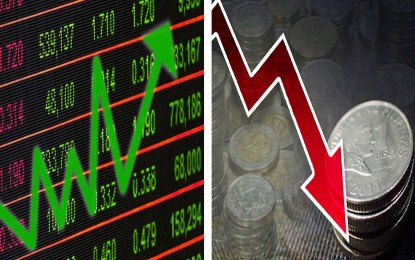 MANILA – The Philippine peso on Thursday closed for the third time this month at its record low of 59.00 to the dollar as recession fears heightened, while the local bourse's main index rose.
The local currency finished the day weaker from its 58.965 close a day ago.
It opened the day at 58.90, sideways from its 58.95 start in the previous session, and traded between 58.85 and 59.00, resulting in an average of 58.95.
Volume rose to USD524.08 million from the previous day's USD505.37 million.
On the other hand, the Philippine Stock Exchange index (PSEi) gained 0.72 percent, or 42.01 points, to 5,895.64 points.
All Shares followed with a jump of 0.29 percent, or 9.17 points, to 3,164.75 points.
Most of the sectoral gauges also rose during the day – Services, 0.97 percent; Holding Firms, 0.84 percent; Financials, 0.62 percent; Property, 0.35 percent; and Industrial, 0.33 percent.
Only the Mining and Oil index finished the day in the negative territory with a slip of 0.58 percent.
Total volume reached 458.54 million shares amounting to PHP3.65 billion.
Losers led gainers 101 to 71 while 41 shares were unchanged.
"Philippine shares were bought up as investors digested the minutes from the September FOMC (Federal Open Market Committee) and as many also looked ahead into the release of the inflation data on Thursday," said Luis Limlingan, Regina Capital Development Corp. head of sales.
Minutes of the FOMC meeting in September showed that US monetary authorities are firm on continuing the rate hike moves until they see a significant impact on slowing the consumer price index, which is at its four-decade high level.
Limlingan said the market expectation is for the US' September 2022 inflation rate to decelerate to 8.1 percent from 8.3 percent in the previous month.
Meanwhile, he cited the third straight day of oil futures' slide due to demand concerns given the resurgence of pandemic-related lockdown measures in China and the rising inflation rate around the globe. (PNA)