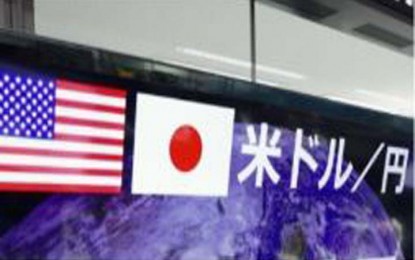 TOKYO -- The yen faced ongoing pressure in the upper 146 range against the United States dollar on Thursday in Tokyo as prospects of aggressive monetary tightening by the Federal Reserve persisted following a stronger-than-expected US producer price index (CPI).
After nearing the 147 line versus the dollar overnight in New York, the yen traded in the upper 146 zone in Tokyo as US producer prices data on Wednesday fueled speculation that the country's consumer price index data will be strong, dealers said.
While the market has already priced in a 0.75 percentage point rate hike in November, a strong CPI could lead to further speculation that the Fed will implement another 0.75 point hike in December, higher than the current projection of a 0.50 point increase, they added.
"If the CPI reading turns out to be stronger than expected, the yen may fall to its next milestone against the dollar" in the upper 147 zone, a level not seen in around 32 years, said Yukio Ishizuki, a senior foreign exchange strategist at Daiwa Securities Co.
At 5 p.m., the dollar fetched 146.83-84 yen compared with 146.87-97 yen in New York and 146.16-19 yen in Tokyo at 5 p.m. Wednesday.
The euro was quoted at $0.9705-9707 and 142.50-54 yen against $0.9696-9706 and 142.43-53 yen in New York and $0.9706-9708 and 141.88-92 yen in Tokyo late Wednesday afternoon.
The yen was also sold after Bank of Japan Governor Haruhiko Kuroda said Wednesday that Japan must maintain monetary easing to achieve its 2 percent inflation target in a stable and sustainable manner.
His remarks underscored the BOJ's diverging policies from those of other major central banks that have been raising interest rates to tame rising inflation, dealers said.
There was little reaction in the markets to the latest warning by Finance Minister Shunichi Suzuki, who said in Washington on Wednesday that Japan will take "decisive" steps against volatile movements in the currency market.
Tokyo stocks ended lower for the fourth consecutive trading session, with investors bracing for US inflation data for September due out later in the day.
The 225-issue Nikkei Stock Average ended down 159.41 points, or 0.60 percent, from Wednesday at 26,237.42. The broader Topix index finished 14.39 points, or 0.77 percent, lower at 1,854.61.
On the top-tier Prime Market, decliners were led by air transportation, service, and electric power and gas issues.
Stocks declined amid persistent concerns about the outlook of the US economy as a result of the Fed's aggressive monetary tightening, analysts said.
Higher interest rates make it pricey for companies and households to borrow money.
Sectors that had advanced in the past few days were sold, including air carriers and service industry issues, brokers said.
Japan Airlines shed 79 yen, or 2.8 percent, to 2,710 yen, while ANA Holdings, the parent company of All Nippon Airways, lost 84 yen, or 2.9 percent, to 2,823 yen.
Toshiba, meanwhile, surged 379 yen, or 7.4 percent, to 5,512 yen on reports that the Japanese conglomerate has selected a group of companies led by a Tokyo-based fund as the preferred bidder for its potential buyout, with 2.8 trillion yen ($19 billion) seen as the desired purchase price.
Among Prime Market issues, declining issues outnumbered advancers 1,447 to 341, while 49 ended unchanged.
Trading volume on the Prime Market fell to 1,042.87 million shares from Wednesday's 1,164.94 million.
The yield on the bellwether 10-year Japanese government bond was unchanged from the closing level on Oct. 5 at 0.245 percent, after remaining untraded for four trading days through Wednesday. (Kyodo)