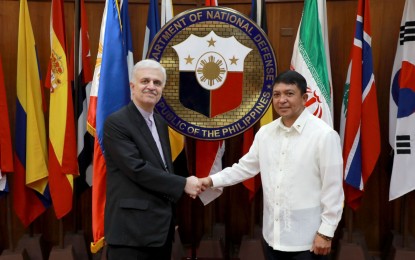 MANILA – Iran has expressed its intentions to develop a more robust defense relationship with the Philippines.
Iranian Ambassador to Manila Alireza Tootoonchian made this remark during a courtesy call at the Department of National Defense (DND), where he was received by Undersecretary for Civil, Veterans and Retiree Affairs Franco Nemesio Gacal, on behalf of officer-in-charge Undersecretary Jose Faustino Jr. on Oct. 11.
During the meeting, Tootoonchian expressed the intent of Iran to develop defense cooperation with the Philippines, particularly in the areas of disaster management and response, counter-terrorism, and self-reliant defense posture (SRDP).
"Undersecretary Gacal conveyed that the DND is open to exploring engagements in areas of common interest with non-traditional partners, such as Iran, in line with the Philippines' independent foreign policy," DND spokesperson Arsenio Andolong said in a statement Friday.
The Iranian diplomat also said both countries are prone to natural disasters and calamities and share similar security issues related to terrorism and violent extremism.
Tootoonchian conveyed Iran's desire to conduct high-level visits between both countries' defense officials.
"In response, Undersecretary Gacal highlighted that strengthening the Philippines' SRDP is one of the major thrusts of the current administration, emphasizing its significance in enhancing defense and military capabilities in addressing pressing security challenges. He also shared the current efforts of the Armed Forces of the Philippines in combatting foreign terrorist fighters and local terrorist groups in the country," Andolong said.
Both officials are looking forward to developing bilateral defense relations and studying possible areas of cooperation between the two defense and military establishments. (PNA)