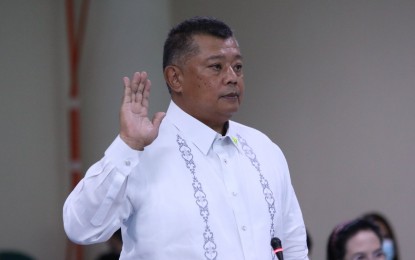 MANILA – President Ferdinand "Bongbong" Marcos Jr. on Friday believed it is "baseless" for Department of Justice (DOJ) Secretary Jesus Crispin "Boying" Remulla to step down from his post following the arrest of his son in an anti-drug operation.
In a chance interview in Pasay City, Marcos vouched for Remulla's competence and integrity, saying the Justice chief is fit for the job despite the fact that his son, Juanito Jose Diaz Remulla III, was arrested Tuesday morning for possession of illegal drugs.
"I think the calls for him to resign have no basis. You call for somebody to resign if he's not doing his job or that they have misbehaved in that job. He has not done [anything wrong]. He has done quite the contrary," he said when asked to react to calls for Remulla's resignation.
Marcos added that Remulla had already made a "very proper" stance not to intervene in his son's case.
"He has taken the very proper position that he is recusing himself from any involvement in the case of his son. And I think that being the Secretary of the Department of Justice he's very aware that he must allow the processes of the judiciary to work properly and that no one in the executive should interfere," Marcos said.
In a statement Friday, the Philippine Drug Enforcement Agency (PDEA) said criminal charges have been filed against Juanito Jose, 38, before the Las Piñas City Prosecutor's Office on Thursday.
He is now facing charges for violation of Section 4 (importation of dangerous drugs), Article II of Republic Act 9165, otherwise known as the Comprehensive Dangerous Drugs Act of 2002.
Prosecutor General Benedicto Malcontento assured an impartial handling of the case against the Remulla scion.
"Clear ang directions ni SOJ (Secretary of Justice's directors are clear). He will not interfere. Rest assured that our prosecutors in Las Piñas will resolve the matter fairly and independently," Malcontento said in a statement.
PDEA spokesperson Derrick Carreon believes that they have an airtight case.
"Ang controlled delivery is an operational technique authorized under Republic Act 9165, kung saan kung may identified na kontrabando at alam kung saan ito dadalhin ay hahayaan na makarating 'yung kontrabando sa destination and so that the authorities may effect the proper arrest on the person of the receiver (The controlled delivery is an operational technique authorized under Republic Act 9165, where the identified contraband is known and the person to receive is identified and we will allow it to reach the destination so that the authorities in effect the proper arrest on the person of the receiver)," Carreon said.
Carreon said Juanito Jose neither resisted arrest nor introduced himself as the son of the DOJ chief.
Juanito Jose was arrested at around 11:10 a.m. on Oct0ber 11 in Barangay Talon Dos in a controlled delivery operation by the Ninoy Aquino International Airport-Inter-Agency Drug Interdiction Task Group and PDEA which resulted in the seizure of 893.91 grams of kush (high-grade marijuana).
The contraband was in a parcel shipped by a certain Benjamin Huffman from the United States and allegedly consigned to the DOJ chief's son.
Remulla, in a handwritten statement released Thursday, vowed that he will neither "intervene in nor influence" his son's predicament.
Remulla said he has to abide by the oath of office when he assumed his new role as Justice secretary.
He also thanked the PDEA for doing its job "without fear or favor."
Meantime, Marcos rejected calls to use his legal powers as chief executive to end former senator Leila de Lima's detention.
This, after Albay 1st District Rep. Edcel Lagman asked Marcos to "order prosecutors to move for the dismissal of criminal cases where inculpatory evidence is lacking."
Lagman said such move could not be considered an intrusion into the courts' domain, but Marcos thought otherwise.
"I think urging prosecutors to do one thing or another is interfering. So, that's why I have said we are very, very clear that we have three departments of government," Marcos said. "Pabayaan natin. Hindi naman natin pinagduduhanan ang process eh (Let them do their work. We should not doubt the process)."
Marcos, nevertheless, ensured that he will continue to monitor De Lima, who was a victim of a hostage-taking incident at the Philippine National Police Custodial Center at Camp Crame in Quezon City on Sunday.
"I think the process is there we are continuing to monitor what is going on," he said, adding that De Lima never asked him to "do anything" when he spoke to her after the incident.
De Lima is accused of allegedly coddling drug lords while she was DOJ secretary, in exchange for the inmates' monetary support for her Senate run.
The hearing on the criminal drug cases against De Lima was reset to October 24. (With reports from Lloyd Caliwan, Benjamin Pulta/PNA)