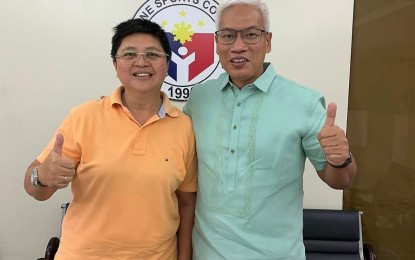 MANILA – The Philippine Canoe Kayak Dragon Boat Federation (PCKDF) is keen on promoting the sport in the countryside to discover potential talents.
Head coach Len Escollante said the PCKDF has been holding training camps and tournaments nationwide to encourage the youth to try the sport.
"We have many young athletes in the team," Escollante said during the weekly Tabloids Organization in Philippine Sports (TOPS) forum at the Behrouz Persian restaurant in Quezon City on Thursday.
She said the PCKDF held a tournament with the help of local government units in Batangas.
The town of Talisay even expressed its readiness to host an international tournament next year.
"The support given by the LGUs made it possible for the PCKDF to continue with its grassroots development program," said Escollante, a member of the national women's volleyball team that won the gold medal at the 1993 Southeast Asian (SEA) Games in Singapore.
Meanwhile, the PCKDF is set to conduct tryouts to determine the composition of the team that will compete in the Cambodia SEA Games next year.
"We want to send our best paddlers who are potential medal winners so we have to hold tryouts. We can only join in nine out of 13 events in Cambodia," said Escollante, who was appointed by Philippine Olympic Committee (POC) president Abraham "Bambol" Tolentino as one of the deputies of Team Philippines chef de mission Chito Loyzaga.
The other is Paolo Tancontian, president of the Pilipinas Sambo Federation.
"I am thankful to POC president Bambol because this is the first time that a coach gets appointed as deputy chef mission (DCDM). It is an honor and privilege for me to have been given the opportunity to serve as DCDM, a duty which is only given to national sports association heads and government officials," she added.
Escollante was a former national volleyball player (1990-1996). She was a member of the national kayaking team (1998-2003), a dragonboat paddler for the Philippine Navy team (2001-2006), and became coach of canoe, kayak and dragonboat team in 2003.
The Philippines will send 814 athletes to the 32nd SEA Games slated May 5 to 16. At stake are 608 gold medals in 49 sports. (PNA)