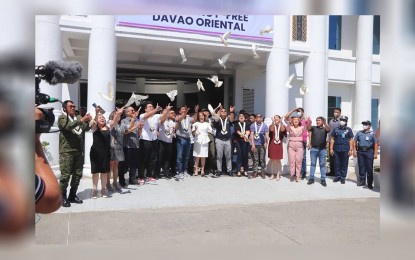 DAVAO CITY – Undersecretary Jose Faustino Jr., officer-in-charge of the Department of National Defense (DND), has credited the local chief executives and unity in the region as the primary factor in achieving the insurgency-free status of Davao Oriental.
The Davao Oriental provincial government formally announced its insurgency-free status on Friday, following the declaration of the Davao Region as insurgency-free on Oct. 12.
"Today, the people of Davao Oriental firmly and openly assert the right to live free from threats of the communist terrorist group in the region. Free to work peacefully and go above their days with hearts unburdened by the terror of an uncertain tomorrow," Faustino said in a press briefing.
Faustino attributed the success to the efforts of stakeholders and civilian peace partners, as well as projects in the province which are strategic, impactful, and meaningful to the communities, which led to the insurgency-free declaration.
Maj. Gen. Nolasco Mempin, commander of the 10th Infantry Division, attributed the realization of an insurgency province to the institutionalization of the Whole-of-Nation Approach, good governance, and dedication of the local chief executives who prioritize the welfare of the people.
"The good governance and commitment of the province of Davao Oriental, with the convergence of all public and private stakeholders, brought us today to this victorious celebration of peace," he said.
"In time for the celebration of a peaceful yuletide season, the official declaration of this province as insurgency-free will be the most precious gift possible to the people of Davao Oriental," Mempin added.
For her part, Governor Corazon Malanyaon urged her fellow local chief executives to sustain the gains, for them to develop as one prosperous region.
"For so long a time we have dreamt and worked on achieving peace which was elusive. The road to peace was filled with humps and bumps. Now, finally peace is here, peace is now a lucid reality," Malanyaon said.
Earlier, Davao Oriental was declared as Conflict-Manageable and Ready for Further Development after the successful implementation of the Peace and Development Outreach Program (PDOP) in 2013.
Likewise, the Community Support Program (CSP) further led to the surrender and neutralization of key New People's Army (NPA) personalities including the front secretaries of Guerilla Front (GF) North and 18 in 2016.
On Sept. 19, the Provincial Peace and Order Council of Davao Oriental passed Resolution Number 01 declaring the whole province as insurgency-free after GF's North, South, and 18 were all dismantled from 2021 to 2022. (PNA)