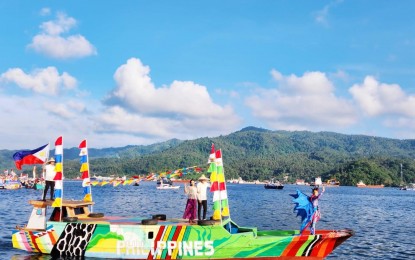 MANILA – A Filipino boat was among the hundreds of vessels that joined the Lembeh Strait Festival in North Sulawesi, Indonesia last week, the Department of Foreign Affairs (DFA) shared Saturday.
The event held in Bitung sought to boost the city's tourism and is one of 110 national events celebrated across Indonesia.
Among the first boats to flaunt its design in the fluvial parade was the Philippine entry designed by the Department of Tourism.
Textile patterns, traditional Mindanao outrigger boats called vintas, beaches, and the Banaue Rice Terraces adorned the hull of the vessel, drawing the attention of spectators, the DFA said.
The Philippine Consulate General in Manado, led by Consul General Angelica Escalona, sponsored the Philippine mural boat.
Bitung City has close relations with General Santos City and Davao City and hosts a Kampung Filipin (Philippine village), whose residents include those of Filipino descent.
Along with its potential as a top tourist destination in the Southeast Asian nation, Bitung City is positioning itself as a regional hub that will connect eastern Indonesia to the Asia Pacific.
The 16-kilometer Lembeh Strait is a long and narrow strip that separates the mainland of Sulawesi and Lembeh Island and is famous for its colorful tropical underwater life.
It is administratively included as part of the port city of Bitung, situated not too far from Manado, the capital of North Sulawesi. (PNA)