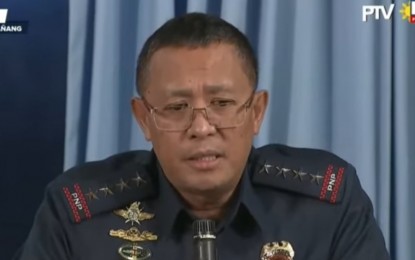 MANILA – Philippine National Police (PNP) chief, Gen. Rodolfo Azurin Jr., has lauded the efforts of the Department of the Interior and Local Government (DILG) being carried out by the Philippine National Police (PNP) and Philippine Army (PA) that resulted to the withdrawal of support of 204 rebels in Central Luzon from the Communist Party of the Philippines-New People's Army (CPP-NPA) who pledged allegiance to the national government.
Azurin particularly commended Police Regional Office (PRO 3) chief, Brig. Gen. Cesar Pasiwen, the member agencies of the Regional Task Force to End Local Communist Armed Conflict in Region 3 (RTF-ELCAC 3), and the Regional Mobile Force Battalion (RMFB 3) for the continuous effort and persistent campaign against terrorism.
The withdrawal of support was made by members of the Alyansang Manggagawang Bukid ng Gitnang Luzon (AMGL)-Nueva Ecija Chapter; Nelson Mesina Command under Kilusang Larangang Guerilla-Tarlac-Zambales; Militiang Bayan; Kalipunan ng Damayang Mahihirap (Kadamay); and United Luisita Workers Union at the PRO-3 Makatao Center of Camp Olivas in San Fernando City, Pampanga province on Thursday.
"The unceasing Local Peace Engagement efforts of the DILG being carried out by the Philippine National Police and Philippine Army that include information dissemination, situational interview, made them aware of the government's programs and the opportunity to change their lives and make amends of the mistakes they have committed due to the deception of CPP-NPA-NDF (National Democratic Front)," Azurin said in a statement on Friday evening.
The event, which was graced by Maj. Gen. Felipe Natividad, Northern Luzon Acting Commander, Area Police Command, was highlighted by the pledge of support to the government by the militant groups, giving of testimonies of former members, and distribution of grocery packs, among others.
Among those who witnessed the program were Ma Luisa De Guzman, Director of NICA3; KKDAT and National Youth Commission Ambassador, Mr. Franz Liam Arabia; RMBF3 KASIMBAYANAN Focal Person, Pastor Jeremiah Abay; DSWD 3 Director Jonathan Diria; DILG LGOO Mark Kevin Salonga and Renzo Miranda; TESDA 3 representative Mr. Adrian Guevarra; and DOLE 3 represented by Mr. Fidel Gonzales.
"Let us continue the collective and whole-of-nation approach against communist terrorists for the full realization of an inclusive and sustainable peace and unity," Azurin said. (PNA)