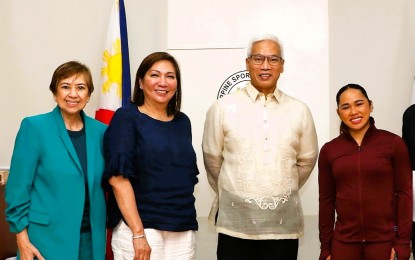 MANILA – Olympians Arianne Cerdeña of bowling and Hidilyn Diaz of weightlifting met for the first time during a courtesy call at the Philippine Sports Commission (PSC) on Friday.
The bemedaled athletes both emphasized the importance of hard work, dedication and discipline for young athletes to succeed during their meeting with PSC Chair Noli Eala and Commissioner Bong Coo, who is also a champion bowler, at the Rizal Memorial Sports Complex (RMSC) in Manila.
Cerdeña bagged the gold medal at the 1988 Seoul Olympic Games where bowling was played as a demonstration sport while Diaz delivered the Philippines first official Olympic gold medal in Tokyo last year.
Diaz also plucked silver during the 2016 Rio de Janeiro Olympics.
"I'm so overwhelmed to meet our Olympic champion, our gold medalist [Hidilyn Diaz] for the very first time. I've only been seeing her in pictures and reading her in newspapers, YouTube, and I'm so overwhelmed," Cerdeña in a press statement on Saturday.
Diaz was similarly elated to meet the bowling legend.
"Syempre ako, sobrang saya kasi nakikita ko lang sya sa news as Olympic gold medalist in bowling. Masaya po akong makita ka, Ma'am, and to know your story (Of course, I am so happy because I only see her in the news as an Olympic gold medalist in bowling. I am glad to see you, Ma'am, to know your story," Diaz said during their meeting, as recounted by the PSC.
The Olympic winners said they want to work with Coo, a multiple Asian Games and world champion, to help empower women.
Cerdeña, now 60, is a nurse at Dignity Health-California Hospital Medical Center in Los Angeles in the United States but wants to return to sports someday.
"I am a front-liner so right now, 'yun ang focus ko muna. But when I retire, hopefully, I will be in sports. I plan to live here (I am a frontliner so right now, that is my focus. But when I retire, hopefully, I will be in sports. I plan to live here)," she said.
The 31-year-old Diaz is preparing for the 2024 Paris Olympics while putting together her thesis for her business management course at the College of Saint Benilde, which is near RMSC.
Like Cerdeña, Diaz said she wants to still be of service after her retirement.
Both agreed that the road to greatness is not easy and aspiring Olympians will have to go through several hardships.
"It's more of the passion for sports. Hindi porke't gusto mo ng gold, makukuha mo agad (Not because you want the gold, you can easily get it). It's hard work, patience and dedication to the sport. Just don't give up, love the sport and it will come. Enjoy," said Cerdeña.
Diaz said children nowadays have it easy and are more engrossed on social media and gadgets.
"In sports, you really have to earn it and really work hard to achieve your dreams. Be disciplined and focus on what you want to do in life and dream high," Diaz advised young athletes. (PNA)