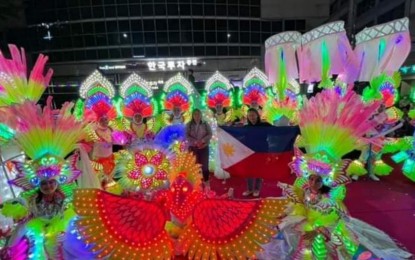 BACOLOD CITY – The Bailes de Luces (Dances of Lights) dancers of La Castellana, Negros Occidental received the Best Foreign Performer Excellence Award at the 2022 Chungjang Recollection Festival in Dong-gu, Gwangju City, South Korea on Saturday night.
One of Gwangju's most famous gatherings, the Chungjang Recollection Festival featured performances, exhibitions, street parade, and performance by cultural assets, among others.
For topping their category, the Bailes dancers received a cash prize of 2 million won, or equivalent to about PHP82,000.
"We're so proud," Mayor Rhumyla Nicor-Manguilimutan said in a Facebook Live video while the locals were having their photos taken with the Negrense performers.
In a post on Sunday, the mayor thanked the people of La Castellana and the provincial government of Negros Occidental for their support and prayers.
"This is for all of us. Thank you, Lord God, for making our journey successful," she added.
Bailes de Luces is the official festival of the central Negros municipality during the Christmas season and culminates every January 5, coinciding with the town's Charter Day.
The dancers use LED (light-emitting diode) lights as main props as their colorful costumes light up while performing.
In September 2019, Bailes de Luces won in the foreign category of the Wonju Dynamic Dancing Carnival in Wonju City, also in South Korea.
The group was invited to perform in the Seoul Lotus Lantern Festival and the All Dance Intercontinental in Rome, Italy in 2020, but both did not push through due to the Covid-19 pandemic. (PNA)