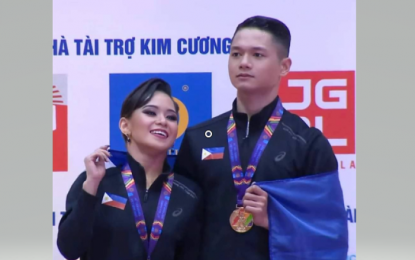 MANILA – The Philippine Dancesport Federation (PDSF) will hold a national tournament on Oct. 29-30 at the PhilSports Multi-Purpose Arena (formerly ULTRA) in Pasig City.
The event also features a performance by World Dancesport Federation top amateur couple Andrey Gusev and Vera Bondareva from Russia.
Coach German Enriquez said the competition will serve as qualifying for the 2023 Cambodia Southeast Asian Games.
"The tournament is open to all amateur dancers nationwide. Members of our national team are joining, too because we will use the competition to select those who will represent the country in Cambodia," Enriquez said in an interview on Sunday.
The Philippines had a successful campaign in Vietnam last May, winning five gold medals, five silver medals and two bronze medals to defend the title it won in the 2019 edition at the Royce Hotel and Casino in Clark Freeport Zone, Pampanga.
"We are optimistic of defending our title in Cambodia next year. Our athletes didn't rest from training after the Vietnam SEA Games and they will continue to train. In dancesport, you only stop training when you retire," Enriquez said.
Enriquez started coaching the team in 2019 following his retirement as athlete. He was a national champion from 2011 until 2017, the year he won the silver medal in Standard – Viennese Waltz at the Asian Indoor Games in Ashgabat, Turkmenistan.
The medalists in Vietnam were Sean Mischa Aranar and Ana Leonila Nualla (3 golds - Standard Viennese Waltz,Tango and All Five Dances); Mark Jayson Gayon and Mary Joy Renigen (1 gold- Standard Slow Foxtrot, 2 silvers - Quickstep and Waltz; Michael Angelo Marquez and Stephanie Sabalo (1 gold - Latin Chacha, 2 silvers - Jive and All Five Dances); and Wilbert Aunzo and Pearl Marie Caneda (1 silver - Samba and 2 bronzes - Rumba and Paso Doble). (PNA)