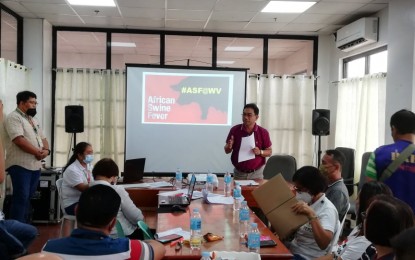 SAN JOSE DE BUENAVISTA, Antique – The Task Force on African swine fever (ASF) Antique has recommended a total ban of swine and other pork by-products coming from outside the province as preventive measure against the spread of the virus.
As per the recommendation of the task force members on Monday, Governor Rhodora Cadiao will be issuing not later than Tuesday the order for the total ban.
"The Task Force has come up with strategies to control the spread of the ASF considering that there is a suspected case in Oton, Iloilo province" said Vice Governor Edgar Denosta, the Committee on Agriculture provincial board chair who presided over the meeting at the legislative building here.
Oton, about 100 kilometers away from here, was reported to have registered its first suspected case of ASF throughout Western Visayas on October 13.
The ASF case has yet to be confirmed by the Department of Agriculture-Bureau of Animal Industry in Manila.
The task force recommended an initial ban of 15 days upon the signing of the EO while the province's 18 municipalities must create or activate their task forces to help implement the ban.
Dr. Marco Rafael Ardamil, Provincial Veterinary Public Health Division chief, said vehicles transporting swine from Antique to Iloilo province or other provinces passing through Barangay San Francisco in Anini-y will undergo disinfection at the border separating Anini-y and Iloilo province.
Elma Peña, head of the Sibalom Livestock and Poultry-Raisers Association and a member of the task force, said hog raisers will now process pork products, such as tocino (sweetened meat) and longanisa (local sausage).
"We will be accessing government agencies for their training support to hog raisers," she said, particularly citing the Department of Trade and Industry-Antique that has shared service facilities on meat processing.
Peña said they welcome the total ban of swine and other pork-products from outside Antique to protect their hog industry. (PNA)