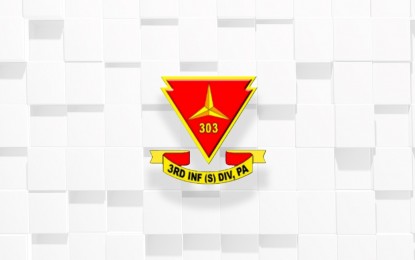 BACOLOD CITY – Security operations of various units under the Philippine Army's 303rd Infantry Brigade (IBde) in Negros Island have resulted in the death of eight Communist Party of the Philippines-New People's Army (CPP-NPA) rebels and the confiscation of 18 firearms and explosives between March 23, 2021 and October 10 this year.
These accomplishments garnered the 303IBde and its operational control units, including the 79th, 62nd and 94th Infantry Battalions, and 33rd Division Reconnaissance Company, streamer awards from Philippine Army commanding general Lt. Gen. Romeo Brawner Jr. on Oct. 13.
"We will remain focused on sustaining the momentum in capacitating the 303rd Brigade towards greater mission effectiveness. We will live up to our brand of honor, patriotism, and duty. We will remain steadfast and resolute in our mandate of serving the people and securing the land," Brig. Gen. Inocencio Pasaporte, commander of 303IBde, said in a statement on Monday.
In 2021, the troops figured in encounters in Sitio Agit, Barangay Trinidad, Guihulngan City, Negros Oriental on March 23; Hacienda Raymunda, Barangay Kapitan Ramon, Silay City, Negros Occidental, Aug. 20; Barangay San Pablo, Manapla, Negros Occidental, Sept. 30.
This year, the clashes were in Barangay Suay on March 18 and Barangay Carabalan on Oct. 10 -- both in Himamaylan City, Negros Occidental.
Data showed the troops seized 11 high-powered firearms, including six M16 rifles, two M14 rifles, an M60 general purpose machine gun, an M4 carbine, and a KG9 pistol, along with two hand grenades, a fragmentary grenade, a 9mm pistol, and three low-powered firearms.
This year, the CPP-NPA leaders killed were Romeo Nanta also known as Juanito Magbanua, the commanding officer of the Regional Operational Command of the NPA's Komiteng Rehiyon-Negros, on Oct. 10; and Ramon "Using" Patriarca, deputy secretary and finance officer of Komiteng Rehiyon-Negros, last March 18.
Last year, among those who died were Kerima Lorena Tariman and Marilyn "Monet" Badayos, both of the now dismantled Northern Negros Front.
Also, 14 CPP-NPA members, including leaders and cadres, were arrested.
The 303IBde along with the 62IB led by Lt. Col. William Pesase Jr., and the 33rd Division Reconnaissance Company headed by 1Lt. Roel Duran were recognized as major engagement streamer awardees while the 303IBde together with the 94IB led by Lt. Col. Van Donald Almonte and 79IB headed by Lt. Col. J-Jay Javines were the significant accomplishment streamer awardees.
In his "Talk to the Troops," Brawner acknowledged the 303IBde for being the top scorer in the 3rd Infantry Division, led by Maj. Gen. Benedict Arevalo, is also the top scorer under the Philippine Army in the country.
"Your unit truly deserves these streamers. This a very good practice because our troops were encouraged to continue their selfless dedication to duty as it is being recognized immediately. Let us not lose that enthusiasm even after we have reached our goal," he added.(PNA)