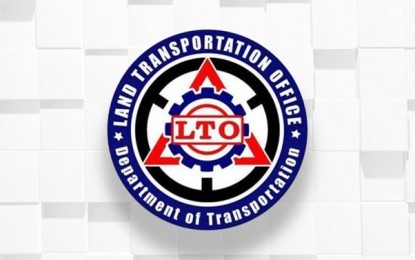 MANILA – A motorist who hit a traffic enforcer and used blinkers and siren has been summoned to appear before the Land Transportation Office (LTO) Intelligence and Investigation Division (IID) on Wednesday morning.
Renante Melitante, IID chief, issued the show cause order on Monday as the LTO vowed to apply the law and obtain justice for its enforcer who was hit by a sports utility vehicle (SUV) along the Edsa Busway in Caloocan City on Friday.
The male driver, flagged down for the initial violation of obstruction for being on the wrong lane, ran over the enforcer's left foot as he fled.
He also switched on the blinker and siren of his SUV.
The driver, whose identity has been withheld pending the proceedings, must submit a written comment or explanation on why he should not be administratively charged for violating the provisions of Republic Act (RA) 4136, or the Land Transportation and Traffic Code, on obstruction of traffic, reckless driving, duty of driver in case of accident, and being an improper person to operate a motor vehicle.
A separate show cause order was also issued to the registered owner of the SUV.
The involved vehicle has been placed under alarm "preventing any and all transactions" and the driver's license preventively suspended for 90 days with a directive to surrender it on the scheduled hearing date.
The victim, Field Enforcement Division law enforcer Butch Sebastian, appeared at the press conference at the LTO in Quezon City on Monday and was emotional while recounting the traumatic experience.
He appealed to motorists to respect traffic laws and enforcers.
"Hindi kami kalaban. Isa po kaming katulong nyo para hindi kayo madisgrasya at makadisgrasya (We are not your enemies. We help you avoid accidents and avoid causing accidents)," Sebastian said.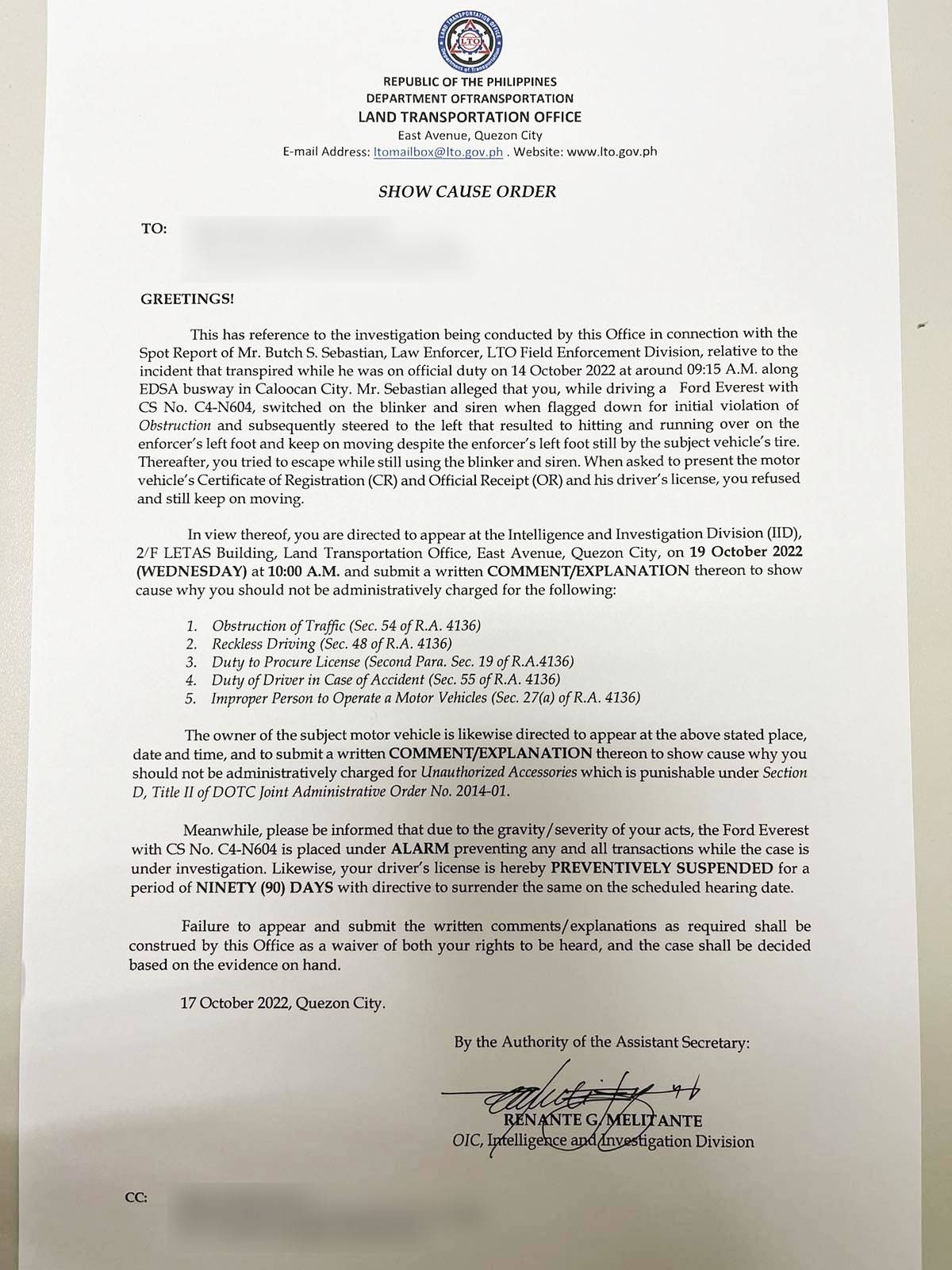 Under RA 4136, only authorized government vehicles such as ambulances, fire trucks, and police cars are allowed to use law enforcement and emergency vehicle accessories such as blinkers and sirens.
"Time and again I have stated that the LTO will not hesitate to prosecute erring drivers regarding the unauthorized use of sirens and blinkers, but most especially those who commit violations against LTO enforcers and any traffic enforcer for that matter, who are on the road fulfilling their duties to keep our roads and the motoring public safe," said Assistant Secretary Teofilo Guadiz III, LTO chief.
Guadiz said traffic laws apply to everyone.
"We will not spare anyone from prosecution regardless of whoever they are or their status in life," he added.
The LTO will assist Sebastian in case he decides to press charges against the driver. (PNA)