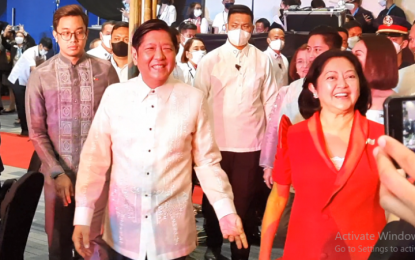 MANILA – President Ferdinand "Bongbong" Marcos Jr. on Monday underscored the need for tourism industry players and stakeholders to come up with "fresh" and "new" ideas to entice more tourists to travel to the Philippines and revive what he described as one of the "key players" in the nation's progress.
Marcos made this remark as he lauded the Department of Tourism's (DOT) ongoing efforts to consult with regional tourism offices about ways to support the tourism industry's recovery dubbed as "listening tours."
"Following the pandemic, we need fresh and innovative ideas to bring back the imagination and the confidence of our people—from here and abroad—so they will be encouraged to explore the best destinations that the country can offer," he said in his speech during the Philippine Tourism Industry Convergence Reception (PTICR) at the SMX Convention Center in Pasay City.
He described the DOT's listening tours as an "imaginative tool" that helps the government see the perspective of those who are on the ground and understand their experiences and situations.
"The avenues you have opened for all regions will be instrumental not only in formulating the best policies, but also in determining better practices and the best projects for the industry," he added.
Marcos said the government will remain committed to ensuring that the inputs acquired from the DOT's listening tours will be "optimized" for the benefit of the tourism sector.
"We want one of the key players in our nation's progress to be buzzing once again with life again—stronger than ever—so that they will be able to keep up with these fast moving times," he added.
He also praised DOT Secretary Christina Frasco for keeping his administration on their toes by having a clear vision of her plans for the tourism sector.
"She keeps us on our toes. She has always kept a very very clear idea in her mind of what we are trying to achieve. She has brought passion and energy that certainly that we're going to need. But it is passion and energy that gives us confidence that we will succeed," Marcos said.
He said Frasco's strategy of empowering local government units (LGUs) was a no-brainer given her experience as a former mayor of Liloan municipality in Cebu.
As part of efforts to boost the tourism sector, Marcos reiterated the importance of further developing existing travel destinations and developing new ones.
He also underscored the need to ensure that these destinations are accessible through improved tourism infrastructure.
Marcos said the PTICR provides the perfect opportunity to pursue initiatives for greater tourism connectivity and convenience.
"It is my hope that this reception will foster meaningful discourse and yield concrete plans that we can immediately put into action," he said.
Greatest asset
Meanwhile, Marcos expressed confidence in using the country's "greatest asset" to revive the tourism sector to what it was prior to the Covid-19 pandemic.
"...The greatest asset that we have in the PH are the 107 million Filipinos who are a young, well-trained workforce who are as kind of people, who are as hospitable of people, as gracious of people as you will find anywhere in the world," he said.
He said he believed that Filipinos will be crucial in "reintroducing" the Philippines to the world.
"I am confident because I have said this many many times that there is no warmer, more poignant sight than the smile of a Filipino and that is something that we can introduce to the world," he added.
During the event, Marcos and other officials led a "unity toast" for the country's tourism industry that has been steadily recovering since being hit by the Covid-19 pandemic.
Marcos was accompanied by his wife, First Lady Liza Araneta-Marcos, presidential son and Ilocos Norte 1st District Rep. Ferdinand Alexander "Sandro" Marcos.
Vice President Sara Duterte also attended the event. (PNA)