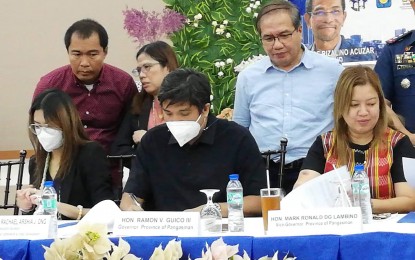 LINGAYEN, Pangasinan – The national government, through the Department of Human Settlements and Urban Development (DHSUD), has launched the "Pambansang Pabahay para sa Pilipino Program: Zero ISF 2028" program that targets to address the 300,000 housing units' backlog in the Ilocos Region.
DHSUD Assistant Secretary Hanica Rachael Arshia Ong said the project will ensure decent and affordable homes for informal settler families (ISF) in a sustainable community.
"We anchor this vision in the basic human right to shelter. This is very timely as we move towards implementing President Ferdinand R. Marcos Jr.'s housing projects," she said in her speech during the signing of the memorandum of agreement at Pangasinan Livelihood Training Center here on Tuesday.
Marcos envisions 1 million housing units per year or a total of 6 million units by the time his term ends in 2028.
DHSUD likewise expects to generate employment for 1.7 million workers every year.
"The national government partners with local government units, financial institutions, and private developers. The crucial role of the local government is in the identification of the beneficiaries and the procurement of the land that is suitable for the establishment of housing and settlement projects," Ong said.
The government will subsidize the interest rate to ease the burden on the beneficiaries.
ISFs will be prioritized but the projects will eventually be opened to families who have yet to own a house.
The housing project has three options, all with just 1 percent interest rate and payable in 30 years: socialized housing worth PHP580,000, upgraded housing worth PHP800,000, and mid-rise and high-rise worth PHP1.1 million.
Beneficiaries will have to pay between PHP1,912 to PHP3,528 per month within 30 years.
Raymundo Foronda, DHSUD-Ilocos Officer-in-Charge, said they have already received proposals from the different local governments and developers in the region and are awaiting the central office's approval. (PNA)