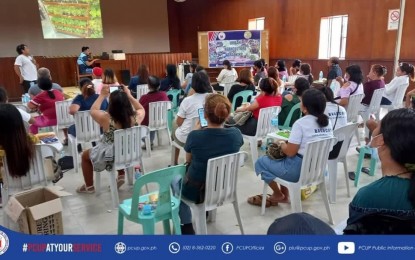 DUMAGUETE CITY – The Presidential Commission for the Urban Poor (PCUP) has trained farmers from informal settler families (ISF) in Negros Oriental province on urban agriculture.
The PCUP training, under the leadership of its chairperson and chief-executive-officer Undersecretary Elpidio Jordan Jr., was held in collaboration with the city government here, a media release on Tuesday said.
Forty-four participants from the eight PCUP-accredited urban poor organizations (UPOs) here attended the training and received training kits which consisted of tomato, eggplant, string beans, okra, pechay, upland kangkong and ampalaya seeds with black polyethylene pots.
Jordan thanked the ISF organizations for their participation and vowed that the PCUP will continue to conduct training to help urban poor communities sustain their daily needs and improve the availability of adequate, safe, and nutritious food.
"We all know that our President Ferdinand 'Bongbong' Marcos is keen on solving poverty and he has time and again expressed his desire to promote initiatives that aim to improve the life of every Filipino family. This is what we firmly uphold so that we can fast track our country's march towards (a) speedy recovery and progressive development," he said.
The training session, which was held at the conference room in Building 2 of the Dumaguete City Public Market, was facilitated by PCUP Visayas, led by Commissioner Paolo Guanco with the help of Community Development Facilitator for ISP Organizations Eugene Villana and Dumaguete Agriculture Office officer-in-charge Maria Victoria Umbac.
Tackling various topics on urban farming and agriculture were resource speakers Dwight Oliver Arnaiz, Vegetable Production and Cultural Management Crop Section head; Roden Ubarre, Urban Agriculture Container Gardening technologist and focal person; and urban agriculture experts Jose Manolo Flores and Mirian Dante.
Among the topics discussed in the training were natural fermented solutions with a demonstration on fermenting fruit and plant juice, fish amino acid, and indigenous microorganisms, as well as techniques and other tips on nursery management and seed sowing. (PNA)