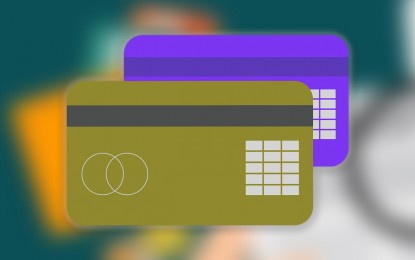 MANILA – The chairperson of the House ways and means committee on Tuesday urged Bangko Sentral ng Pilipinas (BSP) Governor Felipe Medalla to reconsider proposals to adjust the current credit card interest rate caps of 2 percent per month.
Albay Representative Joey Salceda said higher credit card interest rates will merely boost the profits of the biggest banks in the country, while hurting the middle class.
"It's just going to pad bank profits. Why we would want to adjust 27 percent per-annum interest rates upward as if that's not high enough is beyond me," Salceda said.
Last week, Medalla said BSP is reviewing the interest rate cap on credit card transactions, arguing that "given the higher interest rates, it's obvious that we have to adjust the cap."
Salceda said limiting credit growth should be pursued if inflation were because of "very high money supply" in the economy, but he argued that inflation isn't a liquidity problem right now.
"Liquidity growth is actually slowing down. From 7.0 percent in July to 6.8 percent in August. So, given our inflation rate, there isn't any real liquidity growth. There isn't too much money in the Philippines," he said.
He also noted that given BSP's own declared policy goals to make payments cashless, an upward shift in credit card caps is "hardly encouraging".
He said higher credit card interest rate caps will probably bring the Philippine rates to among the highest in the Association of Southeast Asian Nations (Asean).
"In Thailand, the cap is 18 percent per annum. It's 17.5 percent in Malaysia. It's 28 percent in Singapore. And Indonesia has the same cap as we do. Our current average interest rates on credit cards is already for subprime customers in the US. Why inflict pain on ourselves?," he said.
He said the House ways and means panel will review any move by the BSP to raise credit card interest rate caps invoking monetary policy.
"Monetary policy is the sphere of the Committee on Ways and Means, based on our mandate. While we respect the independence of the Central Bank to make decisions, those decisions are not free from Congressional accountability," he said.
He said the BSP Charter mentions reporting to Congress at least 14 times, including a quarterly report explaining the decisions it makes.
"We'll assert that Congressional function if needed. I urge the BSP to be more circumspect about this decision on credit card interest rate caps," he said.
Makati City Rep. Luis Campos Jr., meanwhile, has filed a House Resolution 459 "strongly urging" the BSP to retain the existing limits on credit card charges to help Filipino consumers cope with inflation that hit a four-year high of 6.9 percent in September.
"We want the BSP to keep credit card pricing reasonable and within reach of consumers that are now reeling from the soaring cost of goods and services," Campos said.
He said salaried Filipinos are struggling to make ends meet.
They are increasingly relying on their credit cards to make essential purchases and to pay bills, including the tuition fees of their children, he added.
In the resolution, Campos urged the banking regulator to preserve the 2 percent maximum monthly interest rate on unpaid outstanding credit card balances.
The resolution also urged the BSP to maintain the maximum 1 percent monthly add-on rate on credit card installment loans, and the PHP200 per transaction ceiling on cash advance processing fees.
The BSP is set to review all three thresholds next month.
In three previous semi-annual reviews, the banking regulator decided to keep the caps.
"The lifting of the ceilings would only aggravate the financial burden of consumers," Campos said.
According to the BSP, more than 10.3 million Filipinos have been issued credit cards, and the banking system's credit card receivables stood at PHP478.4 billion as of June 30, 2022.
Campos' resolution wants the force and effect of BSP Circular 1098 series of 2020 kept unchanged.
The circular was issued two years ago, amid the severe economic difficulties, including job losses, caused by the coronavirus disease 2019 (Covid-19) pandemic.
Before the imposition of the caps, banks charged interest rates of up to 42 percent per annum (or 3.5 percent per month) on unpaid outstanding credit card balances.
Banks also collected up to PHP500 per transaction in cash advance processing fees. (PNA)