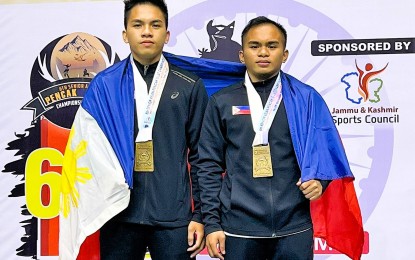 MANILA – After winning 11 medals at the 6th Asian Pencak Silat Championships held recently in India, the national team is gearing up for the World Beach Games, which will be held in Mactan, Cebu in December.
Leading the team are brothers Alfau Jan and Almohaidib Abad, who won the gold medal in the men's double artistic (Seni Ganda Putra) category.
Alfau Jan got another medal, a bronze, in the solo artistic (Seni Bebas Putra) category.
Silver medalists Edmar Tacuel (men's single artistic – Seni Tunggal Putra) and Jessa de la Cruz, Ziara Mari Oquindo and Franchette Anne Tolentino (women's trio artistic – Seni Regu Putri) and bronze medal winners Jaciren Abad (men's Class C 55-60kg), Mark James Lacao (men's Class D 60-65kg), Ian Christopher Calo (men's Class E 65-70kg), Alvin Campos (men's Class F 70-75kg), Joash Mariño Cantoria (men's Class G 75-80kg), Angeline Viriña (women's Class A 45-50kg) and Ziara Mari Oquindo (women's Class B 50-55kg) in the Tanding (sparring) category, are also competing in the World Beach Games.
Alfau Jan, a native of General Santos City in South Cotabato, was ecstatic for winning the gold in India. It was the siblings' second gold medal in an international competition.
"Siyempre, sobra ang saya kasi pangalawang pagkakataon na nakuha namin ulit ang gold medal (Of course, I am very happy because we got the gold for the second time)," the 24-year-old Alfau Jan said in an interview on Wednesday.
They won their first gold medal at the 2nd World Martial Arts Mastership in Chungju, South Korea in 2019, the same year they claimed the silver medal at the 7th Pencak Silat Open in Singapore and 30th Southeast Asian Games in Manila.
Alfau Jan is the second and Almohaidib, 22, the youngest among three children of Abdul Karim Abad, who coached the national team in Seni from 2005 to 2018.
"Ang tatay ko kasi coach ng Seni (artistic) kaya nagsimula kami nung bata pa, hanggang sa nagustuhan ko na (My father was coach of Seni before so he taught us when we were young, until I began to like it)," shared Alfau Jan. "Wala na akong ibang sports na kinahiligan, pencak silat lang (I did not like other sports, only pencak silat)."
Alfau Jan became a member of the national team in 2015, a year after winning the gold medal in the trio (Regu Putra) category at the Philippine National Games in Marikina City.
He captured the bronze medal in the double category at the 2016 World Festival Championship in Bali, Indonesia and pocketed the silver medal at the 9th UPSI International Silat Championship in Perak, Malaysia in 2018.
In July, he won a bronze medal in solo artistic at the World Pencak Silat Championships in Melaka, Malaysia.
Philsilat Sports Association Secretary General Inier Candor described the siblings as "very good athletes, if not one of the best in the world."
He even said that the Philippines is now considered the team to beat and the rival of Indonesia and Thailand after the retirement of Malaysians Mohd Taqiyuddin and Sazzlan Yuga after winning the gold medal at the World Championships.
"Since 2017, their fiercest rivals are the Malaysians, who won the gold medal when we hosted the SEA Games in 2019," he added.
Candor said the attitude of both Alfau Jan and Almohaidib during training is admirable.
"They really want to excel. Every training, they give their 100 percent and they even do extra training if they are not satisfied in their routine performance," he said. "They have been consistent in the last four years. They are not afraid to experiment on routines and even come up with their new stunts."
Candor added, "The Abad brothers basically grew up in the gelangang or pencak silat arena, which became their playground. Their father used to bring them along during training in the former pencak silat gym inside the Rizal Memorial Sports Complex."
Alfau Jan is hoping to do well in Cebu, saying "the goal is to get the gold medal."
"We will be training hard to improve our skills, we will be ready for the World Beach Games. We will do our best to achieve our goal," he said.
The World Beach Pencak Silat Championships is part of the national team's preparation for the 32nd SEA Games in Cambodia, the 19th Asian Games in Hangzhou, China, and the 6th Asian Indoor and Martial Arts Games – all scheduled next year. (PNA)