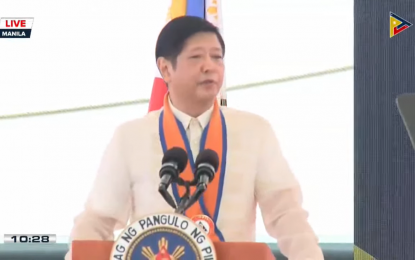 MANILA – President Ferdinand R. Marcos pledged Wednesday to give his full support for the Philippine Coast Guard's (PCG) expansion and modernization efforts.
Marcos made the vow during the celebration of the PCG's 121st founding anniversary in Port Area, Manila, as he acknowledged that the members of coast guard are now taking on "many new duties" beyond their turf.
"Now, you are in the frontline in the defense of our maritime territory, in defense of our economic zones, in defense of our baselines. Although this may not have been originally part of the mission of the Philippine Coast Guard, you have nonetheless been performing that mission with honor, with skill, with dedication," he said in his keynote speech.
"As your leader, I assure you that this administration will always be behind you, supportive of your efforts and initiatives to modernize the Philippine Coast Guard, which will redound to the better delivery of service to the nation," Marcos added.
Marcos commended the PCG for its "impressive" record as the country's "oldest and only humanitarian armed service" since its inception in 1901.
He also expressed gratitude to the PCG personnel for maintaining peace and order at sea, as well as for providing assistance to distressed Filipinos, especially in times of natural calamities and disasters at sea.
"Throughout your century-old narrative, you have never failed to heed the call of your fellow Filipinos, always in their time of need," Marcos said. "This success speaks well of your loyalty, your perseverance, and also your triumphs in carrying out your mandates, as you continuously evolve into a more reliable, relevant agency over the years in the future."
'World-class' sea guardian
The PCG is the primary agency responsible in performing maritime search and rescue, maritime law enforcement, maritime safety, marine environmental protection and maritime security.
It envisions itself as a "world-class" sea guardian by 2028 "to save lives, ensure safe maritime transport [and] cleaner seas, and secure maritime jurisdiction."
Marcos said the government would continue to count on the "good work" of the PCG.
He expressed confidence that the PCG would transform into a "world-class guardian of the sea" that steers the Philippines "towards safer shores and even onwards to a better, brighter, and more prosperous future."
"As you fulfill your duty, know very well that you will never sail as a lone body in these unsettling waters. The entire force of the Filipino people will fuel your voyages, aiding you in your mission, as you brave our seas and make a difference in the lives of the people that you serve," Marcos said.
"I urge you to continue your dedication and persistence in your duties and responsibilities and move full throttle towards the realization of your vision to be a world-class guardian of the sea — committed to save lives, assure safer maritime transportation, ensure cleaner seas, and secure maritime jurisdiction," he added.
'Stewards of environment'
Marcos also hailed the members of the PCG as "stewards of the environment" who promote environmental sustainability by ensuring that all vessels and activities in the seas are compliant with the country's existing regulations and laws.
He recognized the PCG's efforts to improve its operational efficiency by conducting maintenance to lighthouses to ensure the safety of Filipino fishermen and Philippine ships.
"The PCG is likewise crucial to the government's law enforcement initiatives by ensuring and maintaining peace and order at sea," Marcos said. "For all that you have done and that you continue to do, the entire Filipino nation is grateful."
During the event, Marcos also gave the awards to 13 outstanding PCG personnel and received a memento from the coast guard.
He also had a tour of BRP Gabriela Silang, the PCG's largest offshore patrol vessel. (PNA)