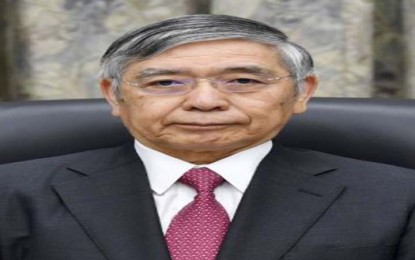 TOKYO – The yen's recent rapid and one-sided depreciation is "negative" for the Japanese economy, Bank of Japan Governor Haruhiko Kuroda said Wednesday after the currency hit a fresh 32-year low versus the United States dollar.
Kuroda told a parliamentary session that the rapid-paced weakening of the yen makes business planning difficult for Japanese companies.
But he also said if the weakening of the yen is stable, it is a plus for the economy.
"Currencies should move in a stable manner, reflecting economic and financial fundamentals," Kuroda told a session of the Budget Committee in the House of Councillors.
"The recent depreciation of the yen is rapid and one-sided. This type of yen weakness makes it difficult for companies to draw up business plans and raises uncertainty so it is negative for the economy and unfavorable," he said.
A weak yen is often welcomed by Japanese exporters as it boosts their overseas profits in yen terms. But it also inflates import costs for resource-poor Japan.
Market players see the widening interest rate gap between Japan and the United States as a cue to sell the low-yielding yen for the US dollar, with the Federal Reserve expected to keep hiking rates.
In contrast, the BOJ has not budged over its stance of maintaining ultra low rates to support an economy that Kuroda has said is facing downward pressure from higher commodity prices.
The yen has fallen precipitously relative to the dollar and has been recently trading in the 149 zone, surpassing the level that prompted Japanese authorities to intervene last month.
Caution about another yen-buying, dollar-selling intervention remains in the market as Finance Minister Shunichi Suzuki has kept up his verbal warnings.
"We are carefully checking foreign exchange movements more frequently," Suzuki told reporters in the morning. "We are ready to take action based on our consistent view."
Suzuki has warned of "decisive" steps against excessive volatility in the currency market.
In a parliamentary session on Tuesday, he said Japan stepped into the market in September as a decisive step. (Kyodo)