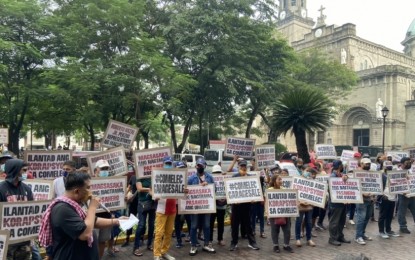 MANILA – The Commission on Elections (Comelec) refused to comment on the protest rally staged by farmers from different areas in the country which opposed the proclamation of a new representative of the Magsasaka party-list.
"The case is now with the SC (Supreme Court). Any statements coming from us may be construed as exerting undue influence on the disposition of the case," Comelec chairperson George Erwin Garcia said in a statement.
This comes as farmers rallied in front of the poll body's main office in Intramuros, Manila to protest the proclamation of Robert Nazal Jr. as the party-list's representative in the 19th Congress.
Members of the Kilusan Para sa Repormang Agraryo at Katarungan Panlipunan (Katarungan) headed by its secretary Danny Carranza urged the poll body to explain how they were able to come up with a decision allowing Nazal to occupy the farmers' group lone seat at the lower chamber.
He admitted that the farmers were offended upon learning about the proclamation of their group's new representative.
"The Comelec's decision on the Magsasaka party-list case was just too harsh. They abused the Partylist, so the farmers protested," he said in an interview.
They added that they were also surprised about Nazal being their representative since the latter campaigned for Pasahero Partylist in the May 2022 polls.
"Nazal is a billionaire businessman, chief executive officer (CEO) of several companies," the group said in a statement.
The protesters came from different areas from nearby provinces such as Bulacan, Cavite, Rizal to as far as Capiz, Bukidnon, Negros Occidental and Negros Oriental.
Last Oct. 10, Nazal took his oath as a member of the House of Representatives as Magsasaka party-list representative.
Former Magsasaka party-list representative Argel Joseph Cabatbat filed a case before the High Court seeking a temporary restraining order against the decision of the poll body.
During the May 2022 polls, Magsasaka placed 46th in the party-list race after getting 276,889 votes, earning one seat in the lower chamber. (PNA)