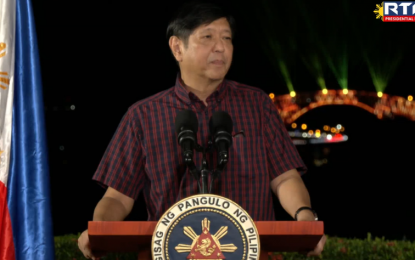 TACLOBAN CITY – President Ferdinand R. Marcos formally switched on the San Juanico Bridge aesthetic lighting project on Wednesday night, an event dubbed by the Samar provincial government as something that will rewrite history.
Marcos arrived at the bridge around 7 p.m. for the official switch on four years after it was conceptualized by the local government as part of its Spark Samar tourism campaign.
"I could not pass up the chance to be here as this bridge holds special place of my heart since this was one of the flagship projects completed during the administration of my late father. You can only imagine genuinely delighted I am to be present to witness the lighting as your president," Marcos said during the program after the ceremony in Santa Rita town, Samar.
For Samar Governor Sharee Ann Tan, the event will raise people's awareness about the province's culture, history, and beauty.
"Since its completion in 1973, the bridge connects the two scenic island as shown in textbooks. Beyond the bridge, however, many Filipinos know little about us," Tan said.
"Tonight, we wish to change all of this. To begin, we are going to rewrite the bridge in history books as the first bridge in the country to have a computer-controlled aesthetic lighting with static and dynamic lights," Tan added.
The governor thanked the President's mother, former First Lady Imelda Romualdez-Marcos, for being instrumental in building the bridge that connects the two islands.
The provincial government conceptualized the project in 2017 as part of its Spark Samar tourism campaign.
Tourism Enterprise Zone Authority (TIEZA) Chief Operating Officer Mark Lapid said the bridge is a symbol of hope and rising after disasters and pandemic restrictions.
"We are witnessing a new history unfolding that is aligned with the Philippine modern society," Lapid said.
The Samar local government is the proponent of the project funded through the PHP80-million outlay from TIEZA in 2018. Pandemic movement restrictions delayed the completion of the project.
The San Juanico Bridge Aesthetic Lighting Project is the first of its kind in the country. The light show and colors can be customized depending on the occasion.
Although the entire bridge was installed with LED lights, it will not distract traffic flow since the lights were placed in the outer part of the bridge.
The 2.16-kilometer San Juanico Bridge is the longest bridge along the Pan-Philippine highway that connects Luzon to Mindanao.
Built in August 1969 and completed in 1972, with a span of 2.162 kilometers and connecting Samar and Leyte Island, the bridge stood many challenges with the Super Typhoon Yolanda (Haiyan) that ravaged Eastern Visayas on Nov. 8, 2013. (PNA)