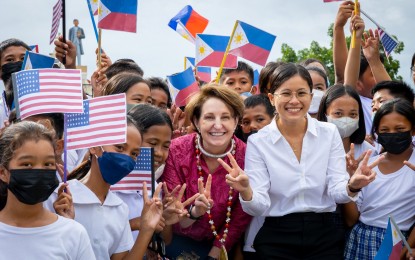 PALO, Leyte – US Ambassador to the Philippines MaryKay Carlson on Thursday said Philippine-US alliance is stronger than ever in the past 70 years.
Speaking during the Leyte Gulf Landings commemoration at the MacArthur Landing Memorial National Park here on Thursday, Carlson said the words of Gen. Douglas MacArthur that "we have come dedicated and committed" continue to embody the strong ties between the two countries.
"Last year, we celebrated the 70th anniversary of our Mutual Defense Treaty, which serves as the strong foundation for our defense relationship and provides the framework for the United States and Philippines to partner on shared military objectives," Carlson said.
The expanded agreements in the past decades, according to the official, enables the Philippines and US to undertake vital training exercises together that "fostered tremendous and wide-ranging defense cooperation."
She reported the completion last week of Exercise "Kamandag", with more than 3,000 combined American and Filipino troops, as well as Republic of Korea Marines and Japanese Ground Self-Defense Forces.
"Planning is already well underway for Exercise Balikatan 2023, which promises to be the most sophisticated and intensive ever. These and our many other joint exercises help improve combined responsiveness to crises in the region and further reinforce our decades-long partnership," she added.
In her brief speech, Carlson thanked the World War II veterans for their service. "It is because of your sacrifices that we live in freedom," she said.
The US ambassador arrived in Tacloban City on Wednesday and visited the town of Balangiga in Eastern Samar to view the Balangiga Bells, whose return in 2018 marked a milestone in the US-Philippine bilateral relationship.
"The return of the bells reflects the strong bonds and mutual respect between our two nations and our peoples. These bells are more than just historical objects. They represent the quest for identity, sovereignty, and freedom," Carlson said in a statement.
During her visit, Carlson was accompanied by US Army Col. Edward Evans, the senior US defense official in the Philippines.
She also met with Balangiga Mayor Dana Flynch de Lira and parish priests Fathers Serafin Tybaco and Manuel Lunario.
The three bells were taken from Balangiga amid the Philippine-American War in 1901.
After years of effort, the bells were returned to the Philippines in 2018.
The US Department of Defense flew the bells to Manila aboard the Air Force plane Spirit of MacArthur, named after Gen. Douglas MacArthur.
After visiting Balangiga town, Carlson awarded the US Congressional Gold Medal to 30 living World War II veterans at the Leyte Provincial Government Complex in Palo town. (PNA)