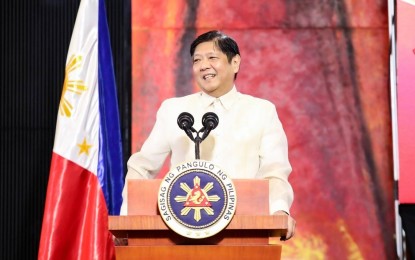 MANILA – President Ferdinand R. Marcos on Thursday congratulated state-run Radio Television Malacañang (RTVM) on marking its 35th founding anniversary and urged its employees to continue doing good work.
He made this greeting in a short video posted on the official RTVM Facebook page.
"Congratulations! Happy 35th Anniversary sa (to the) Radio Television Malacañang-Presidential Broadcast Staff -- awardee Most Outstanding Accounting Office!" Marcos said.
"Congratulations at kayo na lang yata ang nanalo sa Palasyo ngayon kaya't (it seems like you're the ones winning in the Palace that's why) keep up the good work," he added.
Recommended by the Commission on Audit (COA), the RTVM was chosen as among the awardees for meeting the criteria of accuracy, timeliness, reliability, and compliance with the accounting rules and regulations set by the Association of Government Accountants of the Philippines, Inc. (AGAP) Committee on Awards.
AGAP recognizes government accounting offices for their best practices and high-quality financial reports, upon COA recommendation.
The RTVM was organized in 1986 following the peaceful EDSA People Power Revolution.
Executive Order (EO) No. 297 designates RTVM as the entity with "the sole responsibility and exclusive prerogative to decide on policy/operational matters concerning the television medium as it is utilized for the official documentation of all the President's activities for news dissemination purposes and video archiving."
On June 30 this year, Marcos issued EO 2 reorganizing and renaming the Presidential Communications Operations Office (PCOO) and its attached agencies into the Office of the Press Secretary. RTVM used to be under then-PCOO.
RTVM, which is currently placed under the direct supervision and control of the Presidential Management Staff, continues to exist for the broadcast needs of the President of the Philippines.
It is involved in broadcast coverage, social media streaming, and video documentation of all the activities and engagements of the President, either live or delayed telecast/streaming, for news dissemination to government and private media entities, as well as for historical archiving.
RTVM also seeks to "provide the Presidency, in cooperation with various media entities, with the appropriate media complement in order to keep the Filipino people well-informed and updated on the activities, programs, and pronouncements of the President and the Executive Branch."
It also produces in-house flagship programs aired on television and/or social media accounts highlighting the development programs of the national leadership benefitting the citizenry.
RTVM is headed by its Executive Director Undersecretary Franz Gerard Imperial. (PNA)