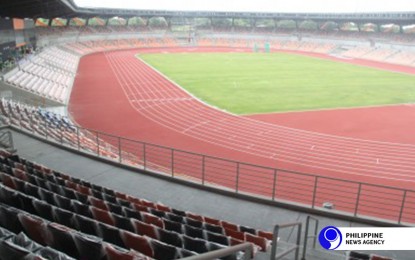 MANILA – The New Clark City Sports Complex has been given a special citation by the online property portal PropertyGuru.
During the recent PropertyGuru Philippines Property Awards, the sporting venue in Capas, Tarlac was given special recognition for a public facility.
This is the latest in the growing list of awards for the venue, which in 2021 received recognition from the World Architecture Festival in the Completed Buildings - Sport Category, and was also shortlisted for the Engineering Prize of the same competition.
In December 2020, New Clark City was cited as the 2019 Sports Tourism Venue of the Year at the 4th Philippine Sports Tourism Awards.
"This feat is truly a testament to the Bases Conversion and Development Authority's (BCDA) constant efforts to provide Filipinos the best public facilities possible by embedding sustainability, gender diversity and gender sensitivity, and smart components from planning to design and implementation," said BCDA president and chief executive officer Aileen R. Zosa.
The New Clark City Sports Complex is the most state-of-the-art sports venue right now.
Its construction was completed in time for the 2019 Southeast Asian Games.
This year, as doors are slowly opening again amid the coronavirus disease 2019 pandemic, the venue became an instant hub for athletics, aquatics, and even triathlon.
Football will be added to the list beginning this Saturday as the New Clark City Athletics Stadium, which boasts of a natural grass field fit to hold such matches, has been tapped as the home of the United Clark Football Club.
The team will host the Azkals Development Team in the first Philippines Football League match in Capas.
The New Clark City Sports Complex will also be the home of the National Academy of Sports, which will house future sports stars who will also get quality education.
"Our promise is to continue building on our vision for New Clark City so we can open up more opportunities and provide a smart, sustainable, and inclusive haven not just to those who live and work within the metropolis, but also to its surrounding communities," said BCDA officer in charge, Executive Vice President Gisela Z. Kalalo, who received the special recognition on behalf of the organization. (PNA)