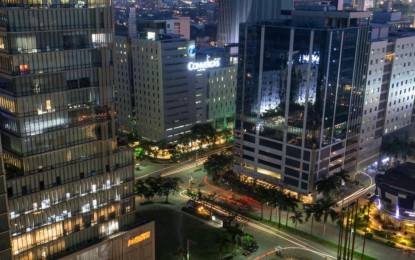 MANILA – The national government is "unwavering" in its commitment to make the Philippines a viable option for businesses for both local and foreign investors, President Ferdinand R. Marcos said Thursday.
Speaking before the business community, Marcos reiterated his promise that government will take the necessary steps to strengthen the relationship between businesses with the government, consumers, and the general public.
"...We recognize the fact that our businesses cannot thrive alone. Thus, it is my commitment to foster a sound environment where businesses can flourish and continue to be a driver of our economic growth," he said in his speech during the 48th Philippine Business Conference and Exposition (PBC&E) of the Philippine Chamber of Commerce and Industry (PCCI) at the Manila Hotel.
"I reiterate my vision of improving our business climate and elevating the status of the Philippines as a top investment destination through various endeavors," he added.
Marcos assured that his administration will continue to help ease doing business in the country by enhancing its digital infrastructure to streamline application processes of business permits, licenses, and other documentary requirements.
He said the government is also committed in developing the country's renewable energy sector to ensure adequate power supply and alleviate rising electricity costs.
By revising the Renewable Energy Law's Implementing Rules and Regulations, he said the government aims to secure energy supply in the country and attract foreign investments for renewable energy development.
"It is necessary that we make these changes because the technology for renewable energy has moved forward so quickly that we have to catch up with our regulations, with our monitoring of our renewable energy sector," he said.
Marcos also promised to push infrastructure development with a special emphasis on public-private partnerships (PPPs) in key projects.
Citing government data, he said there are a total of 74 PPP projects in the pipeline as of August this year, with a combined estimated cost of PHP2.25 trillion.
However, he said there is a need to "do more" and invite investors to do business in the country.
Drivers of success
Meanwhile, Marcos lauded the business community for being crucial in the country's post-pandemic recovery.
"Indeed, you will be the main driver of our success as we emerge from the setbacks posed by the Covid-19 pandemic, the shocks that the economy, the world economy has suffered in the past few months," he said.
He also expressed hope that they would help provide solutions to steer the nation towards "a more progressive, more economically agile community."
"I look forward to see you forge new ties here and it is exciting to see the solutions that you will create to broaden our horizons ahead — one that will be teeming with opportunities that our people rightfully deserve," he said.
"After today, once deals have been closed, policies have been agreed upon, and bonds have been renewed, forged, all of us can proudly tell the world: The Philippines is indeed open and ready for business again," he added.
The 48th Philippine Business Conference and Exposition, organized by the PCCI, seeks to jumpstart dialogue on key policy measures and programs concerning business and the economy that are vital in navigating the Philippines toward full recovery and growth.
During the event, conference chairperson and chief executive officer of EMS Group of Companies Ferdinand Ferrer handed over 10 conference resolutions to the President.
Ferrer said the resolutions "reflect the private sector's commitment to provide meaningful solutions to priority pressing issues and concerns that will help us deal with the significant challenges and opportunities in the years ahead."
"These resolutions will help us achieve food security; move towards a science-based and transparent health system; support new investments and generate more employment; establish and maintain qualification standards in all levels of our educational system; deepen cooperation and expand participation in the international fronts; implement a nation-wide reliable and competitive digitalization program; address climate change; assure reliable and affordable power supply to sustain the economy; provide world-class integrated transport systems, and minimize barriers to the free flow of goods and services," he said.
Marcos also led the presentation of awards for the Most Business-Friendly local government unit and Most Outstanding Chamber. (PNA)