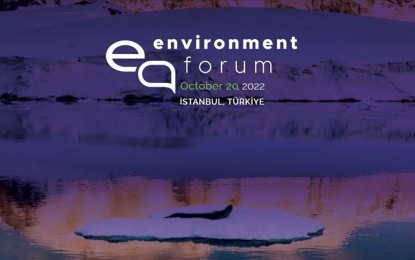 ISTANBUL -- The first Environment Forum organized by Anadolu Agency, Türkiye's leading news provider, kicked off Thursday in Istanbul to raise awareness of the climate crisis and environmental issues.
"Today, we came together to share the need of fighting against the environment and climate crisis from the media perspective with the initiative of Anadolu Agency," said Serdar Karagoz, Anadolu Agency's director-general and chairman, addressing the forum which is being held at Istanbul Renaissance Polat Hotel with the main theme Reshaping the Narrative of Environmental and Climate Crises.
"We face a collective enemy that affects us all regardless of our difference: environment and climate crisis," Karagoz said. "It is not a likely problem that will affect our future, indeed, it is deeply affecting our time."
"As journalists, we cannot stay far away from this matter. 'Reshaping the narrative of environment and climate crisis is not an option for us, it is our responsibility. So, how do we reshape this narrative?" he added.
Noting that Anadolu Agency has been dealing with these questions for a long time, Karagoz said: "After long-lasting discussions, we recently founded Greenline, one of the most comprehensive media platforms narrating environment and climate issues."
"Our main goal is 'remaining responsive' to the world, while nature and the environment are getting destroyed," he added. "Greenline platform reports on climate change, green economy, zero waste, and environment stories from all aspects."
Pointing out that climate journalism should be of greater importance to all media outlets all over the world, Karagoz said: "As journalists, we not only inform, but also transform the public by revealing man-made disasters behind this crisis."
"From forest fires in Europe to the disappearance of rainforests in the Amazon, we tell the world the tragedy of climate disaster with Greenline platform," he added. "However, we tell not only the tragedy, but also share the stories giving us hope."
Karagoz also highlighted that Environment Forum would become "an excellent focal point to discuss both man-made disasters and hope behind this crisis from the media perspective."
"Journalists, experts, and decision-makers, gathered at the Environment Forum today, will debate on a new narrative on the environment and climate change," he said.
"The forum participants' profiles remind us that these issues concern all of us. From Zimbabwe to Spain, Somalia to Albania, from Norway to Italy, we all came together with the same concern," he noted.
"We hope that the Environment Forum will be a milestone in the steps taken against the climate crisis. We hope that it will contribute to a more livable world," he explained.
Karagoz also noted: "I would like to remind you again that as Anadolu Agency, we do not question the need for action. We do inspire, we do act, we do change. We say 'a word for a better world'."
Türkiye to serve as leader globally for positive change in climate action
Lauding the mission statement of Anadolu Agency's Environment Forum "reshaping the narrative" on environment, UN Development Program (UNDP) Türkiye Resident Representative Louisa Vinton said participation of the country's top officials in the forum "is vital to effective action on climate change at the national level."
Vinton said this shows "the potential" of Türkiye "to serve as a leader globally ... for positive change" in climate action.
Expressing the urgency of "getting away from horror movie style coverage of climate (issues)," the UN official called on media to cover climate change "in a way that doesn't inspire fear and paralysis, but rather a kind of solutions-(based) journalism, where policymakers and the public alike can see a path of actions where there is an impact towards a shared goal of protecting the planet."
Noting the challenges in motivating people towards the goal of protecting the planet, Vinton said the community is grappling with "how to spur action, … how to raise awareness, without creating a threat."
Strongly suggesting replacing fossil fuels with renewables, the UN official said: "We need to respect nature," calling for a united approach at all levels of the government on climate action and adding that there was "no need to panic."
Vinton said the world was at a stage "where we need to act to minimize that (climate) change and try to reverse (it in) future."
"We are moving into something very, very scary," she said, warning of a "suicidal war against nature."
Calling on governments to stand on the right side of history, the UN official said this is where "the media narrative has a crucial role to play."
Vinton also noted that the climate change action was a "decisive moment" for Türkiye.
Expressing support to Türkiye on behalf of the UN and UNDP, Vinton called ratification of Paris Agreement by Ankara last year as "one of the greatest and visionary decisions."
Praising Türkiye's aim to be a leader in the green revolution, she said: "It's a very, very important step."
She said the UNDP office was working closely with Türkiye's Environment, Urbanization and Climate Change Ministry, along with other parts of the Turkish government.
The UNDP is helping prepare long-term strategic and action plans on Climate Change action of Türkiye, said Vinton, suggesting the use of solar power and wind-based electricity as a solution.
Besides bringing in the technology in the climate change action, Vinton said lack of resources was also a challenge, calling for the creation of "financing mechanism so that every family in the forest, village can afford to put a solar panel on the roof and generate power not just for households, but also (for) income."
Referring to narrative building on alternate resources of energy production, Vinton said: "People tend to assume that the more radical the change, the more expensive it becomes. But, she said "this is not the way to think about it."
"This is a story that needs to be told that there are solutions … that investing in climate action is not just environmentally sound (but it) makes good economic sense," she added.
'Turkiye, a great example of what nations can do in climate change action'
Ovais Sarmad, the deputy executive secretary of the UN Framework Convention on Climate Change (UNFCCC), said it was important to understand "what we are up against and what can be done" with regard to climate change action.
"Climate change takes on us no matter whether we are rich or poor," he said, referring to the displacement caused by the climate change with recent example from Pakistan.
"So, events like this are coming in. It doesn't really take long," Sarmad said, adding that there is a "fatigue of doom and gloom" in media.
Lauding the Anadolu Agency Environment Forum, the UN official said the event was "important because we need to change habits. Becaus
e there are a lot of opportunities and positive aspects of climate change."
Sarmad said scientists are working on the Intergovernmental Panel on Climate Change report to know "why it is happening and what can be done to prevent the changes."
The UN official also said there was "still time to reverse this (climate change) impact that we are experiencing."
Urging reduction in the greenhouse gas emissions, he said it "very clear how that needs to be done."
"It comes down to each one of these governments, civil society. ... We all need to take actions in our way," Sarmad said.
Calling for "championship" among the tourism stakeholders from the government in the private sector to "boost efficiency and investing in renewables," he called for improving passenger transportation, and increasing the infrastructure for electric vehicles."
"Investment in transformational accommodations creates jobs and stronger, more resilient economies," he noted.
Urging companies in adopting environment-friendly approaches, the UN official said the role of news agencies like Anadolu Agency is "extremely important and Turkiye is a great example of what nations can do."
Sarmad said that since the ratification of the Paris Agreement by Türkiye in 2021, "The (Turkish) government has announced a series of policies on (carbon) neutrality by 2053."
Stressing the planning and positive narrative on climate change action, he said there were "so many solutions and innovations" and the UN's main role "is to support the governance of parties or negotiations as well implementation of the decisions essentially the Paris Agreement."
"In climate change, the narrative is very clear. There is mitigation and adaptation (planning) in the UN as a whole," he said.
Emphasizing "reshaping the narrative" and educating people on climate change at national levels through public broadcasters, Sarmad expressed support for the initiative taken by Anadolu Agency.
Environment Forum
Turkish President Recep Tayyip Erdogan addressed the opening of the forum via a video message.
As part of the forum, a session titled Media Responsibility on Climate Change will be moderated by Yusuf Ozhan, Anadolu Agency's deputy director-general and editor-in-chief, under the title of Media Responsibility on Climate Change.
Representatives of many local and foreign NGOs and international organizations, politicians, academics, and journalists are participating in the event which is featuring sessions on Clean Energy for Sustainable Development, The Media's Approach to Natural Disasters, and Climate Crisis and Responsibility Sharing, as well as issues such as climate change, energy, the media's view of climate change and environmental education.
Turkish Vice President Fuat Oktay and Environment, Urbanization, and Climate Change minister Murat Kurum will also address the event.
Türkiye's first lady Emine Erdogan, who has spearheaded the nation's Zero Waste project since 2017, is expected to deliver a closing speech.
The event aims to tackle issues such as the need to create a new media language on environmental and climate issues, international news agencies raising global awareness, the duties of traditional and new media outlets, and the pursuit of environmental awareness in new news areas.
"We aim to redefine the relationship between media and environment by creating a medium for environmental experts to voice their opinions and discuss solutions," according to the forum's website.
Among the forum's international participants are Portugal's former Minister of Europe Bruno Macaes, Deputy Executive Secretary of the UNFCCC Ovais Sarmad, CEO and General Director of Italian news agency ANSA Stefano De Alessandri, global climate and environment news editor at Associated Press (AP) Peter Prengaman, climate director of Spain's EFE Agency Arturo Larena.
The Environment Forum can be followed live by registering at its website at environment.aa.com.tr. (Anadolu)