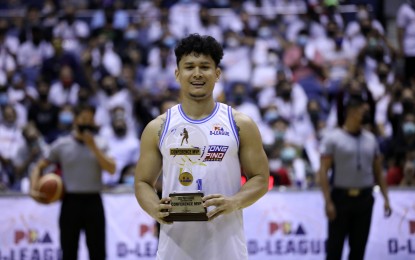 MANILA – Betsafe Lietuvos Krepšinio Lyga (LKL) BC Wolves made headlines on Thursday night after announcing the acquisition of Juan Gomez De Liaño.
The Wolves, the league's newest addition, made the six-foot-one high-flying guard the first male baller from the Philippines to join a European side, the second Filipino player overall following Red Star Belgrade's acquisition of women's basketball star Jack Animam.
According to club president Rimantas Kaukenas, bringing Gomez De Liaño into the fold will help the team gain a following overseas.
"We want to expand the audience of our fans outside of Lithuania. Juan is the player that will help us tap into the basketball loving Philippine market. This is a young, ambitious and, above all, highly motivated player to learn, develop and play for our team. We hope that we will help him to grow as a basketball player and he will take advantage of his chances on the field," Kaukenas said.
Gomez De Liaño, who will turn 23 next month, last played for Marinerong Pilipino in the PBA D-League Aspirants Cup, where he won the tournament's Most Valuable Player award for leading the team to the finals.
Gomez De Liaño turned pro in 2020 at the onset of the Covid-19 pandemic, joining Nueva Ecija in the Chooks-to-Go Pilipinas 3x3.
He then signed with the Earth Friends Tokyo Z of the B.League's second division but only played sparingly for the club last season.
There is no news on when Gomez De Liaño will debut with the Wolves, although they will host Siauliai on Monday night at the Alytus Arena.
The Wolves are currently third in the LKL standings at 4-1, just behind joint leaders Zalgiris and CBet-Jonava, which are both still undefeated at 5-0. (PNA)