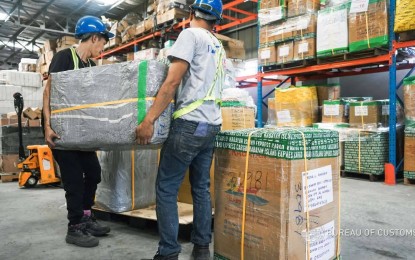 MANILA – The Bureau of Customs (BOC), through the Manila International Container Port (MICP), has begun distribution of numerous unpaid and abandoned balikbayan boxes of overseas Filipino workers (OFWs) after local deconsolidators failed to deliver them to the intended recipients.
In a statement Friday, Customs Commissioner Yogi Filemon Ruiz said this was made possible after the BOC finalized measures for the immediate distribution of the abandoned boxes with the help of various groups and organizations.
The BOC said the abandoned boxes were shipped to several deconsolidators in the Philippines -- CMG International Movers and Cargo Services; FBV Forwarder and Logistics Inc.; and Cargoflex Haulers Corporation.
Their consolidators, all located in the United Arab Emirates (UAE), are Win Balikbayan Cargo LLC (All Win, for brevity) and Island Kabayan Express Cargo LLC.
The consolidators agreed to deliver the packages to the consignees' addresses in the Philippines. However, no payment was made to local deconsolidators, resulting in the non-settlement of duties, taxes, and other charges due to the BOC.
Due to BOC's efforts, Ruiz said the balikbayan boxes are now being distributed in time for the Christmas Season.
As of date, seven containers of Balikbayan Boxes consigned to CMG have already been distributed.
Meanwhile, three containers under Island Kabayan are ready for pick-up at the Portnet Logistics Inc., 2657 Old Panaderos St. Sta. Ana, Manila.
In addition, 16 containers shipped by All Win are also ready for pick up at Km. 33 Hobart Warehouse Compound, Brgy. Tiwala, Borol 1st Balagtas, Bulacan.
Claimants are advised that pick up of cargoes is on Saturdays from 9:00 am to 4:00 pm. Upon claiming, authorized recipients should present the original copy of the Bill of Lading or invoice or any proof of shipping, two valid government-issued IDs. Claiming is free of charge.
An authorized representative may also claim on behalf of the recipient and should provide the following: Original Copy of Bill of Lading or invoice or any proof of shipping, Special Power of Attorney or notarized authority to claim from the owner/recipient, Two valid government-issued IDs of the owner/recipient with three specimen signatures, Representative's government-issued ID
For inquiries, claimants can also contact the MICP - Auction and Cargo Disposal Division (ACDD) through mobile number 0960-939-9870 or via email at [email protected]
In the meantime, Ruiz said he has already ordered the immediate release of the shipments in the remaining 19 abandoned containers to the families of OFWs.
He also reminded OFWs to exercise due diligence in verifying the legitimacy of consolidators and deconsolidators when sending Balikbayan Boxes to prevent being victimized by unscrupulous businessmen.
The BOC is coordinating with the Department of Migrant Workers and the Department of Trade and Industry-Fair Trade Enforcement Bureau to stop unscrupulous activities involving the release of these boxes. (PNA)