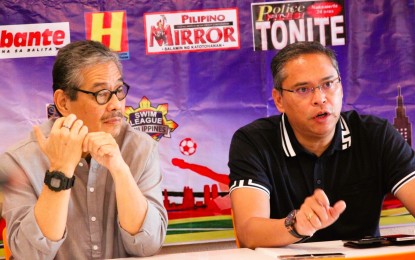 MANILA – More than 400 swimmers will see action in the third leg of the Congress of Philippine Aquatics, Inc. (COPA) Reunion Swim Challenge scheduled from Oct. 22 to 23 at the Teofilo Ildefonso swimming pool inside the Rizal Memorial Sports Complex (RMSC) in Malate, Manila.
Tournament director Chito Rivera said the number of entries increased compared to the previous leg due to the participation of more clubs and organizations as well as students from public schools.
"From 300 in the previous leg, this weekend we have more than 400 because we have many entries from public schools. This is a result of the COPA program to cooperate with the various local government units and the Department of Education for the welfare of public school students to be included in the mainstream swimming community," said Rivera, who also serves as head coach of the Jose Rizal University varsity team.
COPA co-founder and Batangas 1st District Rep. Eric Buhain said he is happy with what is happening in the grassroots swimming community because everyone has the opportunity to become a member of the national team.
"There is no exclusivity in swimming or in any sport. We have to open the door of opportunity to all. The more talent we develop, the better for the country. We have to give chance to those who are not part of organizations, clubs, or associations," said Buhain, the 1991 Southeast Asian Games Best Male Athlete. He was inducted into the Philippine Sports Commission (PSC) Hall of Fame last year.
The COPA program for poor students began in the Novice Swim Championships last month.
"This will continue. Our 'Train the Trainers' program for the teachers is also ready and this will ensure that even in Physical Education, our teachers will be well-trained and also be coaches," said Buhain.
He also thanked PSC Chairman Noli Eala for the support and for allowing the participants, parents, and guardians to enter the RMSC without undergoing antigen testing.
"More young swimmers are joining because of PSC Chairman Noli Eala's decision to relax the regulation in antigen (testing). We are grateful for the all-out support of the PSC Chairman," Buhain added.
The three remaining grassroots sports events of COPA this year will also be held at the RMSC. (PNA)