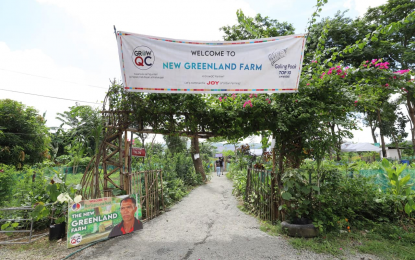 MANILA – Quezon City's vision, for the next eight years at least, will focus on addressing poverty, food security, and environmental crisis.
The city will bank on its "Grow QC" and "Joy of Urban Farming" projects, part of a collective and multi-sectoral food security initiative that addresses food inefficiency that mostly affects vulnerable and indigent families.
The project aims to increase the consumption of healthy, plant-based food, thus cutting emissions from inefficient supply chains while feeding the city's population.
It also promotes urban farming and grants livelihood opportunities to residents.
The programs support the call of world leaders for a common effort to create 50 million good, green jobs by the end of the decade during the three-day C40 World Mayors Summit that ends Friday in Buenos Aires, Argentina.
The summit brought together mayors, alongside business leaders, philanthropists, campaigners, youth leaders, scientists, and residents to showcase solutions and city climate leadership around a fair and inclusive pandemic recovery, well-being of cities, and urgent need for climate finance.
"Quezon City's vision of a livable, green, and sustainable city is centered on building an economy that ensures equitable access to environmental goods now and in the future. We believe that creating jobs that sustain a healthy environment provides equal benefits to nature and people, especially the marginalized," Belmonte said in a statement sent from Buenos Aires on Friday.
"Thus, programs on sustainable food consumption, clean energy, ecological transport, and circular economy, among others, are actively pursued, while climate financing to support more green investments and jobs are explored," she added.
"Grow QC" was launched in 2020 when the coronavirus disease 2019 (Covid-19) pandemic hit the country to sustain food security while "Joy of Urban Farming" started way back when Belmonte was still vice mayor.
Idle lands are converted into productive farms that reduce carbon emissions and empower the next generation of urban farmers who were previously earning minimal or zero income.
To date, QC has already established 337 urban gardens and 10 model farms in various sites, creating livelihood for about 4,119 urban farmers who are mostly workers displaced by the pandemic like vendors and jeepney drivers.
The 10-hectare New Greenland Farm in Barangay Bagong Silangan and the Sitio Payong Backyard Fishpond and Urban Gardening Project in Barangay Old Balara are among the model and demonstration farms which are open for anyone interested in urban agriculture.
"This is one of the best examples of how we can fight climate change with opportunities that benefit both the people and the environment. We're showing that good, green jobs exist outside of traditional climate sectors and can set off a domino effect that boosts employment, protects the health of residents, and fights climate change all at the same time," Belmonte said.
QC is a member of the C40 Cities network of mayors that collaborates to deliver urgent action to confront the climate crises.
"Urban farms address the problem of food security which is a global crisis and limit transportation emissions because we don't have to import food from other parts of the country. By promoting eating vegetable, we address climate problems as well, while advancing a circular economy where the food in our farms, aside from feeding our farmers, are sold in our markets, used in our feeding programs, and now, there are restaurant owners who get their supplies from our farms as these are organic, healthier, and affordable food," Belmonte said.
Egypt will host global leaders for the United Nations Climate Change Conference (COP27) on November 6 to 18, with concerns over fuel security and rising costs made worse by the Russia-Ukraine war.
President Ferdinand R. Marcos is among the invited leaders. (PNA)