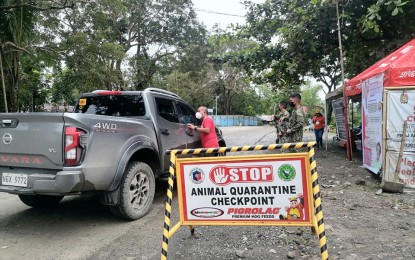 SAN JOSE DE BUENAVISTA, Antique – The provincial government of Antique has put in place 24/7 border control checkpoints to prevent the entry of hogs, pork, and pork by-products from places affected by the African swine fever (ASF), particularly from Iloilo province.
Antique Provincial Veterinary (ProVet) Public Health Division chief Dr. Marco Rafael Ardamil, in an interview Friday, said the border checkpoints have been established in Barangay Fabrica in the municipality of Hamtic and Barangay San Francisco in Anini-y town, both adjacent barangays of Iloilo province.
"There are three ProVet personnel with the police augmentation in each of the border control points manning 24/7," Ardamil said.
The strengthening of the border control points is under Executive Order (EO) 229 issued by Governor Rhodora J. Cadiao on Oct. 18, and in pursuance to the Provincial Ordinance 2020-242 prohibiting the entry into the province for whatever purpose or trading of any pig, boar semen, pork and pork products including food items containing pork.
EO 229 was prompted by the recorded positive ASF cases in the municipality of Oton, Iloilo on Oct. 13. as per Clinical Laboratory Report number 3813 of the Department of Agriculture.
ProVet staff, aside from inspecting the cargoes of the transport vehicles, also distributes fliers to passengers of buses and other public utility vehicles for them to be aware of the ASF.
In a separate interview, Department of Trade and Industry- Antique officer-in-charge Lynna Joy Cardinal they are now coordinating with the Antique National School in San Jose de Buenavista and the Pangpang National High School in Sibalom for the conduct of training on pork processing as requested by the Sibalom Livestock and Poultry-Raisers Association (SILPRA).
The two schools are equipped with a meat processing shared service facility.
"We will be conducting the meat processing training by next week to interested hog-raisers," she said.
SILPRA president Elma Peña said that they particularly requested the training so they could have alternative livelihood since they could not transport their live weight hogs outside of the province for 15 days as mandated by EO 229. (PNA)