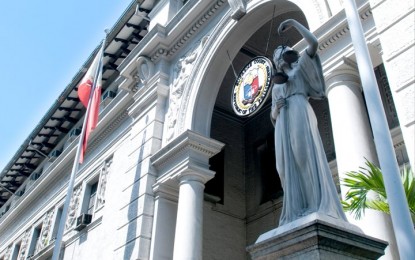 MANILA – The Supreme Court en banc on Friday commenced oral arguments on the petition questioning the constitutionality of the law that reset the Barangay and Sangguniang Kabataan elections (BSKE) from December 5 to October 2023.
Solicitor General Menardo Guevarra argued for the state in the suit filed by election lawyer Romulo Macalintal who claims Republic Act (RA) 11935 is unconstitutional.
In a 50-page comment filed before the tribunal ahead of the oral arguments, the Office of the Solicitor General (OSG) claimed there is no constitutional prohibition on the legislature from passing laws in connection with the elections.
"There is then no question that absent any implied or express constitutional limitation, Congress is free to legislate on a broad range of subjects, especially matters of public interest. Its plenary power is a direct result of a constitutional grant and must be respected in all facets of governance," the OSG position read.
"The plenary nature of legislative power gives Congress the authority to pass laws relating to or affecting elections," it added.
The OSG likewise said there had not been an undue encroachment on the powers of the Commission on Elections (Comelec) and that Congress, in the exercise of its powers to pass laws in connection with the elections, had passed related legislations in the past.
"The conclusion that Congress may pass laws relating to elections despite Comelec's power to decide all questions affecting elections is clear. That Congress has in fact passed a number of laws which directly affect the conduct of elections, including the Fair Election Act, Omnibus Election Code, and the laws relating to the automation of elections, is testament to this," the OSG added.
In his petition filed Monday, Macalintal asked the high tribunal to declare RA 11935 unconstitutional and to direct the Comelec to proceed with the polls on December 5.
Macalintal argued that the constitution does not give Congress the power to postpone the elections nor to extend the term of office of village officials because it is within the exclusive jurisdiction of the Comelec "after it has determined that serious causes warrant such postponement."
President Ferdinand R. Marcos signed the law on October 10, setting the BSKE to the last Monday of October 2023 and every three years thereafter.
Any change on the term of office of village officials should apply to future elections and to apply it retroactively will "unduly curtail the freedom of the people to choose their leaders through popular votes," Macalintal said.
The postponement, he claimed, "is a subtle way to lengthen governance without the mandate of the people" and the "questioned law violates the constitutional provision that the state shall guarantee equal access to opportunities for public service."
Macalintal did not question the Sangguniang Kabataan poll as "SK membership is a mere statutory right conferred by law and that Congress may amend at any time the law to change or even withdraw the statutory right." (PNA)