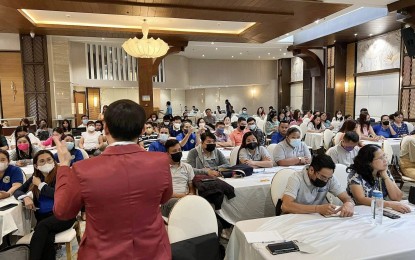 ILOILO CITY – Fourteen secondary schools in the province of Iloilo are offering the pilot run of the senior high school (SHS) classes for the Alternative Learning System (ALS).
Michael O. Tamallana, Assistant School Principal II of the Pavia National High School and at the same time Senior High School Coordinator of the Schools Division of Iloilo, said on Friday that currently 676 learners are enrolled in SHS in the 14 pilot areas in the province.
Iloilo province has the most number of schools that showed a willingness to implement the program out of the 48 schools that were piloted in Western Visayas starting this school year.
"They really took the challenge to implement this program," he said.
The ALS SHS is now available at the Alimodian National Comprehensive High School (NCHS), Janiuay NCHS, Pototan NCHS, Anilao National High Schools (NHS), Dingle NHS, Estancia NHS, Guimbal NHS, Igbaras NHS, Oton NHS, Pavia NHS, Sara NHS, Tubungan NHS, Leonora S. Salapantan NHS in San Miguel, and at the Iloilo National High School.
All strands or tracks that are offered in the regular program are also available in the ALS.
"For now since we are encouraged by the central office and the regional office to implement the pilot implementation of this program, so we are using the MELCs (most essential learning competencies) of the formal senior high school," Tamallana said in an interview.
The classes are on a blended modality or a combination of face-to-face and modular.
Tamallana said junior high school ALS completers are encouraged to pursue senior high school since they are only holding a certificate of completion and not the diploma as proof that they are high school graduates.
"We want them to have the diploma because the basic requirement to have a job or become permanent in their jobs is their diploma as high school graduate," he added.
Meantime, he said training is ongoing for the implementers of the Contextualized MELCs-Based ALS SHS curriculum and they are still waiting for the go signal from the central office and the Bureau of Alternative Education as to when to roll out the curriculum guide intended for the senior high school.
Republic Act 11510 or the Alternative Learning System Act mandates the opening of alternative education to out-of-school children in special cases, out-of-school youth, and out-of-school adults to include among others Indigenous Peoples, learning with disabilities, teenage mothers, socio-economically disadvantaged learners, children-in-conflict with the law, persons deprived of liberty, rebel returnees, learners in an emergency situation and other marginalized sectors unable to participate in formal schooling and have not completed basic education. (PNA)