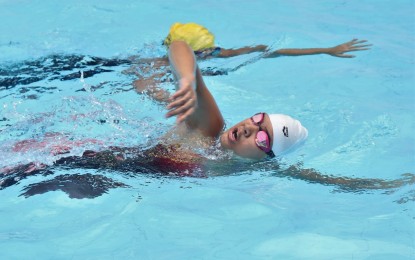 MANILA – Nicola Queen Diamante and Paulene Beatrice Obebe grabbed two gold medals each in the ongoing Congress of Philippine Aquatics, Inc. (COPA) Reunion Swim Challenge Leg 3 at the Teofilo Ildefonso Swimming Center inside the Rizal Memorial Sports Complex in Malate, Manila on Saturday.
Diamante, a member of the RSS Dolphins Swim Club, sustained her winning form with a time of 31.69 seconds to rule the 50-meter freestyle event of the girls' 11-year-old Class A category.
Therese Annika Quinto was second (34.47), followed by Cathlene Joy Hergania (34.64).
Diamante also topped the 50-meter butterfly event with a time of 34.72 seconds, beating Rhian Casey Casona (39.36).
"I am back to school but I still continued training with my coach. My mission every tournament is to improve my personal best and win the gold medal," said Diamante, who bagged four gold medals in the second leg and seven gold medals in the COPA Novice Swim Fest last month.
Obebe got her share of the limelight when she dominated the same events in the 12-year-old division.
Obebe registered 29.87 seconds to beat Sophia Gustilo (31.67) and Kisses Kristine Libat (33.51) in the 50-meter freestyle.
In the 50-meter butterfly event, she submitted 31.22 seconds to prevail over Libat (35.93) and Eunice Cassandra Manara (36.31).
"I'm very happy. I really prepared hard for this tournament. This is my gift for the patience of my coach and the support of my parents," said Obebe of the Aqua Sprint Swim Club.
The tournament continues on Sunday with Diamante and Obebe expected to claim more gold medals. (PNA)