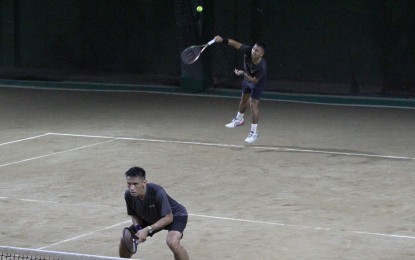 MANILA – Philippine Army's Jeson Patrombon and Elbert Anasta kicked off their title bid with a 6-1, 6-4 victory over Mapua's Marco Makalintal and Gabriel Guria on Sunday in the 39th Philippine Columbian Association (PCA) Tennis Championships men's doubles category at the PCA indoor shell court in Plaza Dilao, Paco, Manila.
"It's a good start for us. We played a solid game in the first set," said the 29-year-old Patrombon, the 2018 PCA Open singles champion and SEAG medalist, after the match.
"They were able to adjust in the second but we tried to be consistent with our serve and return and controlled the pacing of the game," added the player from Iligan City, Lanao del Norte.
Patrombon and Anasta have been playing together for the past four years. This year, they won the Palawan Pawnshop Open held in Davao (Digos City), Cebu, Pampanga and Parañaque.
"We're happy to hurdle our first match and hopefully, we can keep our winning form to reach the final, which is our target," Anasta said.
Also advancing were defending champions Johnny Arcilla and Ronard Joven, who defeated brothers Mario and Raymart Sabas, 6-0, 6-2.
Arcilla, the country's No. 1 player before retiring in 2019, is looking forward to meeting the unseeded tandem of Patrombon and Anasta in the semifinal round.
"I think it will be an interesting match," said Arcilla, whose last stint in the national team was the Davis Cup tie against Thailand.
Arcilla and Joven captured the title over AJ Lim and Jed Olivarez in 2019, the last staging of the PCA Open before it was shelved for two years due to the Covid-19 pandemic.
Second seeds Leander Lazaro and Fritz Verdad also made it to the next round after posting a 6-1, 6-4 win over Vaughn Codilla and Aljohn Talatayod. They will meet the winners of the match between Jose Bernardo and Mateo Victor Rivas and qualifiers Khryster Mina and Dennis Pico.
Other first-round winners were No. 4 seeds Alberto Villamor and Rash Manatad over qualifiers Jeffrie Burgos and Jeffre Jumawan, 6-2, 6-2; No. 7 seeds Russel Arcilla Jr. and Kim Saraza over Al Quiza and Lawrence Quitara, 6-4, 6-4; and No. 8 seeds Jose Antonio Tria and Bryan Saarenas over Jeffrey Villanueva and Mitchell Frencillo, 6-3, 6-2.
The tournament offers PHP200,000 in cash to the men's singles champion and PHP100,000 to the women's singles champion. In the doubles category, the winners will get PHP70,000 (men's) and PHP35,000 (women's). (PNA)