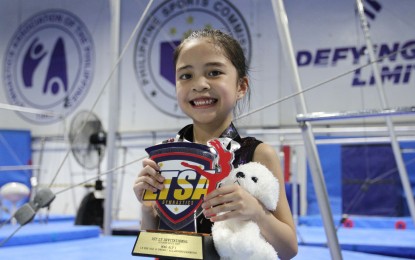 MANILA - Sabrina Richelle Lagman came up with a brilliant performance on Sunday to win the all-round title in the 6-years-old and under category of the 2022 Learn and Train Sports Academy Invitational at the MVP Sports Foundation Gymnastics Center in Intramuros, Manila.
Selina Cervantes placed second followed by Victoria Paige Ngosiok, Fille Renee Cayetano, Alessandra Encarnacion and Jillian Cosette Chua.
Lagman was happy to win in her first-ever competition since starting to take up the sport last June.
"I like gymnastics because it's fun," said the 6-year-old Lagman, a Grade 1 student at the Assumption College in Makati City, in an interview after the awarding ceremony.
Lagman is the youngest among three children of Sherrill, a former member of the De La Salle pep squad, and Mike, who works at Volvo.
Meanwhile, Juliana Yupitun topped the 7-years-old and under category. Belicia Magallanes placed second followed by Gillian Alexandra Yu, Raven Allessi Uy, Olive Chan and Sadie Gonzalodo.
In the 8-years-old and under category, Estelle Lucia Co was ranked first followed by Minka Elise Mathay, Erin Alexandra Chu, Siena Isabel Aboitiz, Lucille Anne Dolores Dy and Amanda Beatrice Mayo.
Audrey Kaye Dewar won the 9-years-old and over category. Bianca Isabel Obial finished second followed by Cian Marie Miguel, Katia Miren Alfonso, Kahlia Crisostomo and Marchesa Jeikka Lee. (PNA)