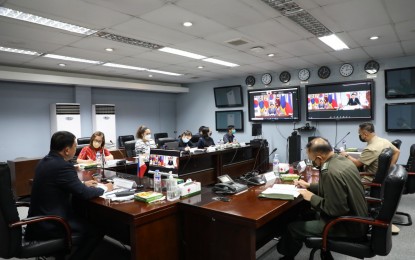 MANILA – The Philippines and South Korea committed to strengthening defense ties amid restrictions due to the coronavirus disease 2019 (Covid-19) pandemic.
This, as senior officials of the Department of National Defense (DND) and Ministry of National Defense of the Republic of Korea (ROK) virtually convened the Joint Defense Cooperation Committee Meeting for the second time on Oct. 19.
The meeting was co-chaired by DND Undersecretary Franco Nemesio Gacal and South Korea's Defense Vice Minister Shin Beomchul.
"On Philippines-ROK defense relations, Undersecretary Gacal highlighted that the two countries' defense and military engagements have been sustained despite the restrictions of the Covid-19 pandemic," DND spokesperson Arsenio Andolong said in a statement over the weekend.
Both officials also exchanged proposals on how to further strengthen Manila-Seoul defense relations.
"Relatedly, the Philippine side thanked ROK for its continued support (for) the Armed Forces of the Philippines (AFP) Modernization Program," Andolong said.
Both sides exchanged views on the security situation in the South China Sea, West Philippine Sea, and the Korean Peninsula, as well as the overall progress of the Philippines-ROK defense relations, including multilateral cooperation under the Association of Southeast Asian Nations (Asean).
"Meanwhile, Vice Minister Shin provided brief updates on the recent ballistic missile launches of the Democratic People's Republic of Korea (North Korea) from the past weeks," the DND spokesperson added.
Andolong also said the South Korean side also expressed appreciation for the Philippines' continued support and call for the complete, verifiable and irreversible denuclearization of the Korean Peninsula.
"Both sides also expressed support of their multilateral initiatives under Asean, specifically in the Asean Defense Ministers' Meeting (ADMM)-Plus," he added.
The meeting concluded with the two countries reaffirming their commitment to working towards a secure and stable Indo-Pacific region. (PNA)