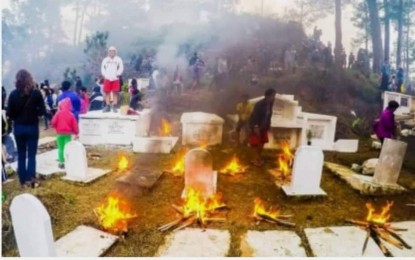 LA TRINIDAD, Benguet – The mayor of Sagada, Mountain Province said the "panag-puur" or "panag-apoy" (lighting of fire) practiced by residents during Undas (All Saints' Day and All Souls' Day) is a cultural practice that is not meant for tourism.
"It is a tradition of our people that is meant to be solemn as a way for families to remember their loved ones who have gone ahead," Mayor Felicito Dula said in a phone interview on Monday.
He said people might have been interested after seeing photos from previous years which showed that the town was on fire as residents simultaneously lit a "saleng" (pine twig) beside the tomb of a relative.
Aside from the cemetery, some residents bury their dead at the poblacion (town proper) within the church mission compound and are managed by the church. This practice is observed in many parts of the region.
"The panag-apoy is a private event, not arranged by the local government but by the people who just happened to be observing a practice. Nobody gives a signal when it will be done, but is just done by the people," Dula added.
The panag-apoy is done in the afternoon of Nov. 1 until the evening or while people are at their relatives' tombs.
"It is just like the ordinary lighting of a candle done by any person when visiting the tomb of a relative, but the people in Sagada just use the pine twig, similar to the olden time when candles were not yet available," Dula said.
He pointed out that the practice is not a festival or a celebration in Sagada.
"It just so happened that the lighted pine twig produces a bigger fire than a candle and emits a pine sap scent that looks good in photographs and is different from the other areas of the country but it is a solemn observance to remember a loved one," Dula said.
In the past, Dula said the presence of tourists was tolerated but locals became unhappy with several people around taking pictures, preventing the solemnity of the visit to the tomb of a relative.
Dula also said the local government has no hand on whether tourists will be allowed at the cemetery as the one at the poblacion is the private property of the church. (PNA)