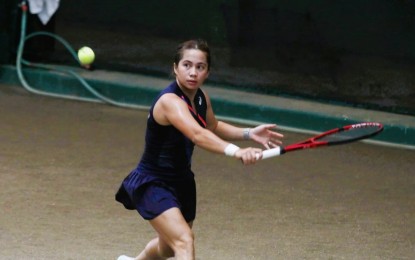 MANILA – Top seed Marian Capadocia outclassed Chloe Mercado, 6-1, 6-0, on Monday to stay on course to her title-retention bid in the women's single of the 39th Philippine Columbian Association (PCA) Open Tennis Championships at the PCA indoor shell court in Plaza Dilao, Paco, Manila.
The Vietnam SEA Games veteran will meet Annika Diwa, who pulled off a 6-2, 6-3 victory over Patricia Lim, in the second round.
In the men's singles event, Philippine Army's Elbert Anasta marched into the third round after beating Diego Dayrit, 6-2, 6-2.
The 40-year-old player from Negros Occidental fought back from a 0-2 to claim the first set. He took a 4-2 lead in the second set en route to victory.
"So far, I am happy with the way I played today. I am in good condition and hopefully, I will perform better this year," said Anasta, who lost to Jed Olivarez in the quarterfinal round in 2019, the last time the tournament was held before the pandemic struck.
Anasta has collected five doubles titles this year with 2018 PCA Open singles champion Jeson Patrombon.
No. 5 seed Fritz Verdad also made it to the next round following a 6-1, 6-1 win over Gabriel Tiamson, 6-1, 6-1. He will be up against unseeded Jose Maria Pague of Ipil town in Zamboanga Sibugay province.
Pague, 22, captured his first singles title at the Palawan Pawnshop Open in Dumaguete City two weeks ago. He bagged the doubles title with AJ Alejandro of Cotabato City.
"I had a tough match today, my opponent played very well especially in the first set," said the Dunlop-sponsored Pague after winning his second-round match against Joshua Kinaadman, who was forced to retire due to leg cramps. The score was 5-7, 6-4, 2-1.
"I will try to do my best in the next match," said Pague, who has two more doubles titles, one with Alejandro and the other one with Norman Joseph Enriquez.
Meanwhile, former national player and 2002 PCA Open winner Joseph Victorino, secured a second-round seat after pulling off a 3-6, 7-5, 6-1 upset win over No. 7 seed Leander Lazaro.
Other winners in the women's singles event were second seed Janeila Rose Prulla over Elizabeth Abarquez, 6-0, 6-3; third seed Althea Faye Ong over qualifier Jana Diaz, 6-2, 6-3; No. 7 seed Alexa Joy Milliam over Sydney Enriquez, 6-4, 6-4; Miles Vitaliano over Eliana Misa, 6-0, 6-2; Joana Tan over qualifier Princess Gom-os, 6-3, 6-2; and US-based Makeliah Nepomuceno over Ruth Demafelis, 6-1, 6-0. (PNA)