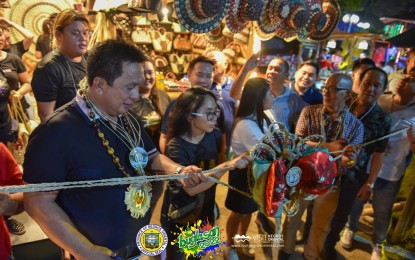 DUMAGUETE CITY – The Provincial Health Office (PHO) has placed Negros Oriental under Code White Alert to monitor and prevent the spread of diseases at the height of the Buglasan Festival and the upcoming observance of All Saints' and All Souls' Days.
Assistant Provincial Health Officer Liland Estacion told the Philippine News Agency on Monday that the Code White Alert will run from Oct. 21 until Nov. 3, by virtue of Administrative Order 2008-0024, known as the Integrated Alert System for the Health Sector of the Department of Health (DOH).
"It is during these days that we need to place the province under the said level of restrictions because of the anticipated influx of people coming from many areas to attend the Buglasan festivities as well as those who want to visit their dead relatives during the 'kalag-kalag' (Undas) observance," Estacion said in mixed English and Cebuano.
Since the province is no longer requiring people to present their vaccination cards, she said it is now up to the provincial and local government units to adopt and institute measures and actions that will help prevent the transmission of diseases, particularly the coronavirus disease 2019 (Covid-19).
Apart from sporadic cases of Covid-19, the province is also currently experiencing a continuing rise in the number of dengue and typhoid fever infections, she added.
Under Code White, surveillance will be strengthened at points of entry and exit; laboratory and referral hospitals will be prepared; diseases from outside of the country will be monitored; essential medicines and personal protective equipment will be prepared; protocols for case detection, management, and referral based on previous outbreaks will be observed; and risk communication systems will be developed, among others.
The Buglasan Festival is the province's premiere showcase of its different town and city festivals, cultural heritage, socio-economic, tourism, and other activities held every October and with large crowds coming to this capital city where the events are held at various venues. (PNA)