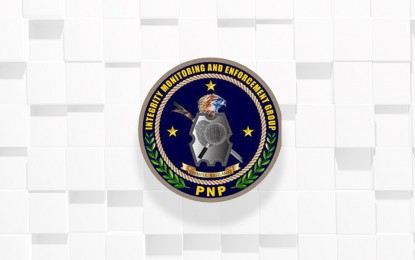 MANILA – Operatives of the Philippine National Police's (PNP) anti-scalawag unit arrested two police officers and their cohorts for extorting money from a resident whom they accused of involvement in illegal drugs.
In a statement Tuesday, Integrity Monitoring and Enforcement Group (IMEG) chief Brig. Gen. Warren de Leon identified the police officers as Senior Master Sgt. Michael Familara, 47, a desk officer of Sub-Station 7, Station 2 (Pasig) of the Eastern Police District (EPD) and Cpl. Nathaniel San Buenaventura, 30, designated as beat patroller of the same station.
Also arrested were their two civilian cohorts Juan Carlo Fernandez Zapanta and Carl Gorgonio Anito.
The suspects were arrested by members of the Integrity Monitoring Action Team (IMEAT) around 9 p.m. Monday in Cainta, Rizal.
"A complainant went to our office to seek help. According to her alleged four men forcibly entered their house on Oct. 18 and took her money amounting to PHP10,000 and the coin bank of her daughter. The complainant was allegedly arrested for illegal drug use and was brought to the vicinity of Pasig City Police Station but was not detained," de Leon said.
The suspects demanded PHP100,000 which was lowered to PHP10,000 to be paid via GCash in exchange for not filing a criminal case against her.
The complainant sent PHP6,000 via GCash on Oct. 19. On the afternoon of the same date, she was brought back to her residence.
The suspects kept on contacting her asking for the remaining balance.
Out of fear, the complainant went to the house of her siblings in Taguig City and told them about the incident on Oct. 23.
De Leon said the law enforcement operation was launched after one of the suspects texted the complainant that he will get the balance of PHP4,000 they agreed upon on Monday evening.
After a few minutes, the suspects arrived at the house of the complainant and asked for the balance.
During the arrest, confiscated from the suspects were four pieces of PHP1,000 bill genuine (dusted money); a small transparent plastic sachet containing a white crystalline substance suspected to be shabu; a Glock 9mm Pistol with serial number BYG606 and two magazines loaded with live ammunition (Not PNP issued firearm); a Taurus 9mm pistol with serial number TLT94397 and three magazines loaded with live ammunition (Issued PNP firearm); a caliber 45 (airsoft); a motorcycle and three cellular phones.
"Upon record check, the arrested suspects are in the Counter Intelligence Watchlist. San Buenaventura for his involvement in mauling incident and illegal discharge of firearm and Familara for estafa /swindling." de Leon said.
The suspects will be charged with robbery (extortion), violation of RA 10591 or the Comprehensive Firearms and Ammunition Regulation Act, and violation of RA 9165 or the Comprehensive Dangerous Drugs Act of 2002.
The two police officers are facing both criminal and administrative charges. (PNA)