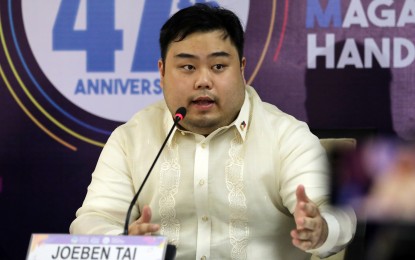 MANILA – National Housing Authority General Manager Joeben Tai on Tuesday called on lawmakers to restore funding for the NHA's Emergency Housing Assistance Program (EHAP) in 2023 so the agency could continue providing cash assistance to families affected by natural and man-made calamities.
The NHA chief made the appeal after the Department of Budget and Management did not allocate funds for the EHAP in the 2023 budget it had proposed to Congress.
"I hope the Congress leadership will reconsider at maibalik po sa aming budget ang pondo para sa EHAP (and restore the fund to our budget for the EHAP), so we can provide continuous assistance for 2023 and beyond," Tai said.
Tai said the goal of EHAP is to provide quick response cash assistance to qualified low-income families affected by natural or man-made calamities to help them restart their lives and rebuild their homes.
Under the EHAP, the NHA releases cash assistance of PHP10,000 to families whose houses were partially damaged and PHP30,000 for families whose homes were destroyed by man-made or natural calamities such as earthquakes, typhoons, flash floods, and fires.
Tai said when he assumed his position as the new NHA chief on Aug. 1, he immediately ordered the release of the current EHAP funds to more than 42,000 families affected by the earthquake that hit Ilocos Sur and Abra on July 27, 2022, amounting to PHP275.5 million.
"Finding ways to help the families whose houses were damaged and destroyed by the earthquake was one of my priority concerns. With the EHAP funds, we were able to help the earthquake victim families through this financial aid," he said.
He said last Oct. 7, the NHA, through the EHAP, also assisted 458 families from 25 barangays in Zamboanga City who were fire victims by giving each family PHP10,000 in financial grants.
"We intend to help more families through our EHAP. Our target is to provide quick assistance to 53,713 families affected by Typhoon Karding in Regions 1, 2, 3, Calabarzon, and CAR. However, we can no longer do that because we no longer have EHAP funds for 2023," Tai said.
Region 1 refers to the Ilocos Region, Region 2 to the Cagayan Valley Region, Region 3 to Central Luzon, Calabarzon to the provinces of Cavite, Laguna, Batangas, Rizal, and Quezon, and CAR to the Cordillera Administrative Region.
Meanwhile, the NHA chief said he had instructed all its regional managers in all provinces affected by Karding to assess its damage and assist local government units in identifying affected families and processing of documentary requirements needed to get aid from the NHA. (PNA)