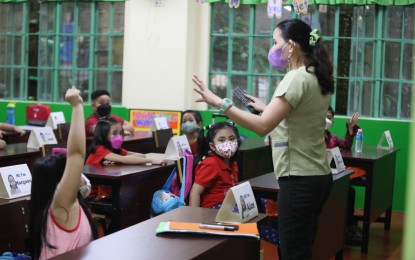 MANILA – Digitalization and the hiring of non-teaching personnel should be considered as long-term solutions to ease the heavy workload off teachers even as the Department of Education (DepEd) formulates a "balancing tool".
Senator Sherwin Gatchalian said in a news release on Tuesday that based on the proposal of the Philippine Institute for Development Studies, digitalization will help rationalize teachers' jobs and allow them to allocate more time for teaching.
"The quality and delivery of education is affected by the administrative work of the teachers and student support roles, and the participation in government sponsored programs such as in elections, deworming, and immunizations," he said.
The DepEd workload balancing tool will determine how teachers divide their time between teaching and performing administrative works.
The agency also announced that teachers would no longer monitor households to check on students' compliance with the Pantawid Pamilyang Pilipino Program requirements, like regular health checkups and vaccines, deworming, and at least 85 percent class attendance per month.
The Department of Budget and Management approved DepEd's 2023 proposed funding of PHP710.6 billion, which increased from last year's PHP633.3 billion and will allow the hiring of more teachers.
Gatchalian has filed Digital Transformation in Basic Education Act to promote efficiency in delivering basic education services, including the creation of lesson plans and filing reports.
The senator also reminded adherence to Republic Act 4670 or the Magna Carta for Public School Teachers, citing a Senate panel review that revealed DepEd is non-compliant with three sections of the law -- provisions on medical examination and treatment, salary increase upon retirement, and submission of the annual budgetary requirement.
Under the law, public school teachers should not render more than six hours of actual classroom teaching daily.
Meanwhile, Senate Majority Leader Joel Villanueva expressed concerns on the long overdue status of the computer-based licensure examinations (CBLE) project of the Professional Regulation Commission (PRC), 22 years since RA 8981 or the PRC Modernization Act was enacted.
It was revealed during a recent Senate budget hearing that no funding was allocated for setting up CBLEs in PRC regional offices for next year.
CBLEs would allow the PRC to make up for instances when licensure examinations are canceled due to natural calamities and health emergencies such as the pandemic.
During the first year of the pandemic in 2020, only 11 out of 85 licensure exams were conducted and just 62 out of 101 in 2021, according to the PRC.
Villanueva also noted that the Licensure Examinations for Teachers were canceled four times between 2020 and 2021.
RA 8981 mandates the PRC to implement "the full computerization of all licensure examinations by the various professional regulatory boards"
"Let's not wait 20 more years. We needed a fully functional CBLE years ago. We are eager to hear from the PRC its modernization plans for transitioning to a digitalized system of conducting licensure exams," Villanueva said in a statement. (With a report from Leonel Abasola/PNA)